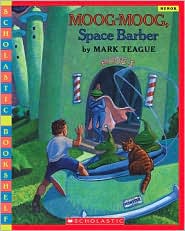 Upon his impending return to school, Elmo is given a haircut that he hates and is afraid everyone will laugh at him. As he's watching TV the night before school starts, Elmo wishes things could happen as easily as they did in Big Slimy Things from Outer Space, the show he was watching. Within minutes Elmo is being whisked off to visit Moog-Moog in hopes of a better hairstyle. Despite an unsuccessful attempt visiting an intergalactic barber, Elmo returns to school only to discover that his friend Buford was having the same problem.
The very colorful artwork is sure the capture the eye and attention of young readers!
Lesson Plans/Book Activities:
Unfortunately I wasn't able to find any premade lesson plans or book activities to go along with this book!
***

In this science fiction novel, ten-year old Katie Welker realizes just how different she is from everyone else when neighbors start questioning who she is and why she "does what she does." Katie has known for years that she has had a special power that other people don't have – the ability to move things just by looking at and thinking about them. After setting out to find out just who she is and why she has these special powers, Katie discovers that her silver eyes and telekinesis powers are the result of exposure to a chemical or drug from a company her mother worked for when she was pregnant with Katie. Half way through, the discovery was made that there were three other kids who were just like Katie, and she sets out on a quest to find them.
This isn't a book I would typically gravitate to or even read. However, I will admit, once I got started with this one, I couldn't put it down!
Lesson Plans/Book Activities:
Again, I was unable to find any premade lesson plans or activities to go along with the novel.