From the author of
A Series of Unfortunate Events
comes
13 Words
.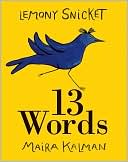 Snicket, Lemony.
13 Words.
October 2010.
HarperCollins.
Review copy provided courtesy of publisher.
Summary from bn.com:
Based on an unlucky number of key words and authored by someone who takes pleasure in unfortunate events, this volume conjures a sense of foreboding. "Word Number 1: Bird" introduces the central character, and the accompanying illustration pictures a royal-blue bird perched on a linen tablecloth, in a yellow-and-pink dining room that might have been painted by Matisse. The bird's eye droops sadly, whereupon readers turn to "Word Number 2: Despondent" and "Word Number 3: Cake," an item that might alleviate a bird's ennui, at least temporarily. Despite ominous beginnings, the proceedings turn upbeat with the arrival of a chic "Word Number 4: Dog," who concocts witty diversions for the gloomy bird. Kalman's eccentric gouaches elevate the wintry mood; the dog, with his sly grin, resembles Kalman's Max, particularly when he tries on hats at "Word Number 9: Haberdashery." Sprinkled with additional vocab words like "spiffy" and featuring surreal landscapes in ice-cream hues, this word-association game recalls Kalman's solo productions. The conclusion, however, belongs to Snicket, because "the bird, to tell you the truth, is still a little despondent."
-Publishers Weekly
I don't typically summarize from Barnes and Noble, but after reading this, I wasn't even quite sure how to write a summary of my own. In being honest in writing my reviews and to sum this one up - I just didn't get it... if anyone has any insights that might enlighten me, I'd love to hear them!


If you're interested in finding out more information about any of the books reviewed or if you'd like to purchase the books, click the cover image for a link to Amazon.com. I am an Amazon Affiliate, so any purchases you make after clicking these images will result in my receiving a small percentage of the sale price!