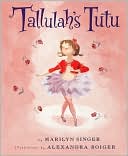 Singer, Marilyn.
Tallulah's Tutu.
March 2011.
Houghton Mifflin Harcourt.
Review copy provided courtesy of publisher.
Tallulah knows she can be the perfect ballerina... all she needs is a tutu (and according to Mom, a few lessons). Eagerly, Tallulah sets out to ballet class, anticipating receiving her tutu at the end of her first lesson, as all she needs to be the perfect ballerina is that tutu. However, Tallulah quickly faces disappointment as the tutu is handed out after that first lesson... or the second... or the third... When Tallulah has a meltdown after one lesson and learns that it takes a long time to earn the tutu, she decides to quit ballet. However, ballet is in her blood and as it turns out, not so easy to give up! Tallulah learns the important lesson that winners never quit and in being less concerned about having that tutu, Tallulah becomes even better at ballet and is surprised with her tutu in the end!
Definitely a wonderful book for dance/ballet lovers. The story will inspire young dancers to put for their best effort if they really love the sport and to worry less about their dance attire. The book is well written and will even allow young children to pick up a few dance moves, even without any prior knowledge of ballet!
Learning/Reading Activity:
Click on the link here and save the file. Print it full size on paper. Give it to your little one and break out the craft supplies, encouraging her to "design a tutu" that she'd like to have! Then, paste/tape it into her summer journal and have her use some descriptive language to describe the tutu and why she designed it as she did!

Tweet
If you're interested in finding out more information about any of the books reviewed or if you'd like to purchase the books, click the cover image for a link to Amazon.com. I am an Amazon Affiliate, so any purchases you make after clicking these images will result in my receiving a small percentage of the sale price!