Lighten the mood surrounding your child(ren)s return to school with this funny, lighthearted school bus tale... (not recommended for first time riders who take things very literally)!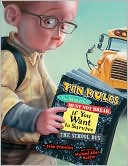 Grandits, John.
Ten Rules You ABSOLUTELY MUST NOT BREAK if You Want to Survive the School Bus.
July 2011.
Houghton Mifflin Harcourt.
Review copy provided courtesy of publisher.
As Kyle's first morning of riding the bus to school begins, his older brother James decides to give him some brotherly advice. He starts out with the basics... Don't get to the bus stop too early. Or too late! And then, the rules become a little more complex!
Rule #1: Never sit in the first row.
Rule #2: Never sit in the last row.
Rule #3: Never, ever make yourself stand out in any way.
Rule #4: Never make eye contact.
Rule #5: Never touch anyone's stuff.
Rule #6: Never talk to big kids.
Rule #7: Never talk to girls.
Rule #8: Never mess with the bully.
Rule #9: Never be the last one on the bus.
Rule #10: Never, absolutely never, mess with the bus driver.
Unintentionally, Kyle breaks every single one of the rules by the time his first day of riding the bus is over! However, by the time he arrives home to find James waiting for him, Kyle has learned an 11th rule that he never expected to -
Rule Eleven:


Never, absolutely never,
pay attention to your
big brother's list of
Ten Rules You Absolutely
Must Not Break
if You Want to Survive
the School Bus!
This story is just what middle elementary children will find welcoming as they head back to start a new school year! I advise against sharing this book with the younger children unless they have developed a sense of humor and can distinguish humor from reality, as so many take things literally at a young age. I'd hate for a kindergartener to be sent off on the bus fearing for their life! All in all, it's a funny story that will likely be enjoyed!
Tweet


If you're interested in finding out more information about any of the books reviewed or if you'd like to purchase the books, click the cover image for a link to Amazon.com. I am an Amazon Affiliate, so any purchases you make after clicking these images will result in my receiving a small percentage of the sale price!