Pirates fans will find great delight in this informative text!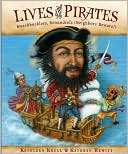 Krull, Kathleen.
Hewitt, Kathryn.
Lives of the Pirates: Swashbucklers, Scoundrels (Neighbors Beware!).
July 2010.
Houghton Mifflin Harcourt.
Review copy provided courtesy of publisher.
Collective biographers, Kathleen Krull and Kathryn Hewitt return to share with readers about the lives of famous pirates. From Captain Kidd and Madame Chang to Blackbeard, children will learn nearly everything there is to factually know about the lives the twenty some men and women presented in this book.
Who knew...
Alvida (if she did exist) was the first known female pirate?

the Barbarossa Brothers worked first as sailors?

Lady Mary Killigrew's father, husband ans son were also pirates?

Grace O'Malley never called herself a pirate but rather referred to her job as
"maintenance by land and sea"?

Sir Frances Drake was several inches taller than the average pirate?

Sir Henry Morgan commanded more than two-thousand pirates on thirty-eight ships at his peak?

Captain Kidd's father, a Presbyterian minister, died when Kidd was five years old?

William Dampier succeeded in publishing his thrill-a-minute diaries?

Blackbeard's real name is Edward Teach?

Black Bart captured 470 ships in just four years?

Mary Read was raised as a boy in London and Anne Bonny stabbed a servant girl in the stomach at age thirteen?

Stede Bonnet was sentenced to death after inflicting eighteen fatalities during a five-hour cannon fight?

Conajee Angria left behind five sons who happily continued in their father's footsteps?

Rachel Wall began her career in pirating by stealing a ship off the coast of Maine after being unable to pay rent one month?

Madame Cheng organized the largest pirate gang in history?

Jean Laffite was against violence and treated his crews with respect?

Benito De Soto was the most wanted pirate in the Atlantic?

Long John Silveris a cook with a parrot always perched on his shoulder?
Children will learn all this and more in this wonderfully, factual book!


If you're interested in finding out more information about any of the books reviewed or if you'd like to purchase the books, click the cover image for a link to Amazon.com. I am an Amazon Affiliate, so any purchases you make after clicking these images will result in my receiving a small percentage of the sale price!