Expose the youngest of children to symbols of Christmas with this touch-and-feel book.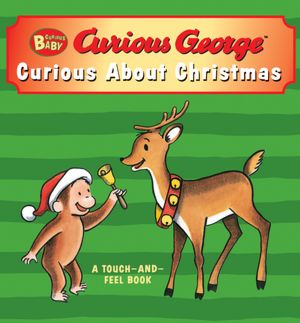 Pala, Anjali.
Curious George: Curious About Christmas.
September 2011.
Houghton Mifflin Harcourt.
Review copy provided courtesy of publisher.
The real importance of Christmas is referred to at the end of this Curious George tale, exposing children to the true meaning of Christmas from a very young age. The story also exposes children to traditional symbols of Christmas - stars, stockings, ribbons, reindeer, snow, Santa's beard... and of course, Curious George's present - a sled.
The touch-and-feel aspect of this story allows children to become engaged in the story in a sensory way, allowing them the opportunity to really make a connection between the text and their prior knowledge of Christmas symbols. Definitely a book to pass along to the little ones in your life this Christmas season.
Reading Activity:
Help your child to really make a connection to the objects explored in this book. Set out to "experience" all of the textures in the book - visit a petting zoo to touch a reindeer, check out the stockings for sale in your local Walmart (or similar), make cookies together, play in the snow, go sledding, check out Santa's beard @ your local Santa display and feel and discuss the textures of the ornaments on your Christmas tree. Make this a linguistic experience for your child - use lots of descriptive vocabulary in your explorations to help build your child's language development!

Tweet
If you're interested in finding out more information about any of the books reviewed or if you'd like to purchase the books, click the cover image for a link to Amazon.com. I am an Amazon Affiliate, so any purchases you make after clicking these images will result in my receiving a small percentage of the sale price!