Share with children a story of selfless giving this holiday season.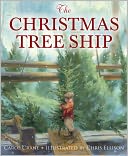 Crane, Carol.
The Christmas Tree Ship.
September 2011.
Sleeping Bear Press.
Review copy courtesy of publisher.
Based on newspaper accounts and other sources, Carol Crane tells the story of one man's ultimate sacrifice to provide the children of Chicago with Christmas trees.
"Captain Santa" has made it his mission to deliver Christmas trees from Michigan's upper peninsula to Chicago to provide the less fortunate children with a form of Christmas. This has been a tradition for years. When suddenly, one year, the ship is overcome by a winter storm and Captain Santa and his trees perish, it is worrisome that Chicago's children will suffer the misfortune of no trees. However, realizing the importance of giving, Captain Santa's wife and daughters decide to carry on the tradition.
This is definitely a heart-wrenching story but well-worthy of sharing this holiday season. It's not your typical Christmas-y story, which makes it all the more special, as the deeper meaning will really encourage older children to take a new look at the true meaning of Christmas!
Reading Activity:
As a family, after reading and discussing the story, think of something (however small) that you could do for a family or child less fortunate that your own.

Tweet


If you're interested in finding out more information about any of the books reviewed or if you'd like to purchase the books, click the cover image for a link to Amazon.com. I am an Amazon Affiliate, so any purchases you make after clicking these images will result in my receiving a small percentage of the sale price!