After much deliberation, I've decided to put my "Weekly Blog Plan" on hold for the next several weeks... through Christmas. There are so many great Christmas/Holiday books that I want to be able to share and provide learning activities to go along with that I've chosen to change things up a bit... Following Christmas, I'll be taking a portion of the week to finish up 2009 reviews and then take the remaining time off to get the 2010 blog plans in place!
The next few weeks bring lots to look forward to! However, in the meantime, I'll start you out with one title tonight! Hope you enjoy!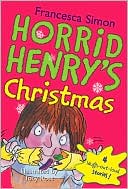 Simon, Francesca.
Horrid Henry's Christmas.
September 2009.
Review Copy Provided Courtesy of: Sourcebooks, Incorporated.
Horrid Henry, originally from the UK, has now spread in popularity across the United States. I have seen many a children checking these books out from local library systems and they seem to be in high demand among school libraries, as well. Henry is really and truly horrid... and through use of his horridness, your child(ren) will be drawn in and giggling in no time!
Horrid Henry's Christmas
is compiled of four stories: Horrid Henry's Christmas Play, Horrid Henry's Christmas Presents, Horrid Henry's Ambush, and Horrid Henry's Christmas Lunch, each of which is unique in it's own way.
In Horrid Henry's Christmas Play, Henry is determined to make himself into the star of the showing after being given position of Innkeeper, rather than Joseph. The lengths in which he goes to just may put some ideas into your own child(ren)'s head, as he takes Miss Battle-Axe's words,
Now remember, don't worry if you make a little mistake: just carry on and no one will notice,
literally and is determined to make sure that he becomes the true star of the show!
Horrid Henry's Christmas Presents is not much better as far as Henry's behavior. Horrid Henry has either eaten or forgotten to purchase a Christmas present for each member of his family that will be at their house on Christmas Day... he doesn't want to spend his money on gifts, as that he can buy himself. Instead, Henry comes up with an idea of giving away something he already has or making a Christmas present for members of his family. This story holds potential for teaching children about giving as well as receiving for Christmas and about how meaningful homemade Christmas gifts can me, provided they are not just used as a "way out"...
Henry is truly horrid, as revealed in Horrid Henry's Christmas Ambush. Rather than being grateful for the gifts he's received at Christmas past, Henry is upset that Santa didn't bring all of the items he requested in his letter and decides to ambush him this year, to be sure he receives all that he wants... even though Henry's behavior leads us to believe Santa ought to be leaving several, large lumps of coal! Children need to learn that although Santa is magical, he can't provide
everything
on
everyone's
Christmas list!
Just when you might think Horrid Henry can't be any more misbehaved, he proves you wrong in Horrid Henry's Christmas Lunch! Henry just isn't thankful for anything... not even the fact that his mother is busting her chops to cook a Christmas lunch for the family. Unfortunately, the Christmas lunch turns into the Christmas dinner than never is... as the meal eventually ends up crawling with spiders. Kids will likely find a great deal of humor in this last of the four mini-stories!
Learning/Reading Activities:
Discuss with your child the ways in which Horrid Henry shows just how ungrateful he really is.

Encourage your child to write a fifth story in the Horrid Henry's Christmas quartet. Ask them to imagine another way in which Henry can display his horridness during the Christmas season!
For more information, or to purchase the books above, click on the image for a link to Amazon.com!