I first became familiar with the
Biscuit
series about 4 years ago when I was tutoring a first-grader who struggled with reading skills. These books are perfect for beginning readers for several reasons. They're also ideal for children who have begun to read independently. If you have young children at home, they're likely to love Biscuit, so check out these new titles!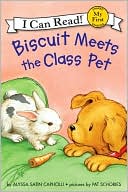 Capucilli, Alyssa Satin.
Biscuit Meets the Class Pet.
December 2009.
Harper Collins.
Review copy provided courtesy of publisher.
Biscuit's owner, the little girl, has the opportunity to bring home Nibbles, the class pet. The weekend turns into more of an adventure than anyone bargains for as Nibbles hops away, leading Biscuit and the little girl to go on a hunt to find him!
The repetitive and predictable text makes this book perfect for young children are just beginning to start reading. The simplicity of the illustrations provides their use as context clues when reading. Both of these things, added to the cuteness of Biscuit will have young children hooked on the
Biscuit
series.
Learning/Reading Activities:
Discuss with your child the similarities and differences of caring for the two different pets, Biscuit (the little girl's dog) and Nibbles (the classroom pet). What different needs do the animals have? What needs do the two have that are the same? You can use the Venn Diagram activity page found here if you wish!


Capucilli, Alyssa Satin.
Biscuit's First Trip.
January 2010.
Harper Collins.
Review copy provided courtesy of publisher.
Biscuit and his owner, the little girl, are busy getting ready for Biscuit's first trip - a vacation to see the rest of the family! From the packing, to the car ride, to meeting the family and participating in the games, all aspects of Biscuit's first trip are covered in this book!
The book is perfect for families preparing for a vacation with young children, as it will help allow children to see all aspects of the vacation. It might also be helpful for parents planning the first big trip with the family - choosing spots to stop and move around, etc.
Learning/Reading Activities:
Have you got Spring Fever as bad as I do? Plan a weekend getaway with your family! One great resource (although it doesn't cover all 50 states) is http://www.escapemaker.com. Another great resource to consider is The Best Attractions in All 50 States.
The book could also be used in many ways educationally. After reading, have your child(ren) draw a picture of something they would like to do on vacation. Or, if you're creative, you could turn the story into a sequencing game to test comprehension!

If you're interested in finding out more information about any of the books reviewed or if you'd like to purchase the books, click the cover image for a link to Amazon.com. I am an Amazon Affiliate, so any purchases you make after clicking these images will result in my receiving a small percentage of the sale price!