I've recently received a wonderful box of review books from Lerner... this is just one from the lot, but it's totally my kind of book!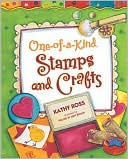 Ross, Kathy.
One-of-a-Kind Stamps and Crafts.
April 2010.
Lerner Publishing.
Review copy provided courtesy of publisher.
What a super cool book for kids! Even though it's part of the
Girl Crafts
series, boys can have fun with these projects too! The book provides readers (and parents, if you're looking for a craft resource) with all sorts of neat crafts that can be created using stamps - and we're not talking about those expensive, store-bought stamps! These stamps are hand crafted by none other than your child(ren)! My personal favorite was the puzzle piece stamp that was created using puzzle pieces and empty film canisters. It's super simple, yet all kinds of cards can be created by stamping a collage of sorts from the puzzle pieces!
Learning/Reading Activity:
Pick a stamping activity from the book. Turn this into next year's Christmas gift that your child will give to friends and family. Everyone loves receiving mail! What better gift to give than a set of homemade stationary or greeting cards that can then be shared with others!

If you're interested in finding out more information about any of the books reviewed or if you'd like to purchase the books, click the cover image for a link to Amazon.com. I am an Amazon Affiliate, so any purchases you make after clicking these images will result in my receiving a small percentage of the sale price!