What better way to teach kids about the value of money?!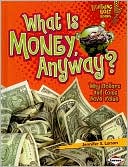 Larson, Jennifer S.
What is Money, Anyway?: Why Dollars and Coins Have Value.
February 2010.
Lerner Publishing.
Review copy provided courtesy of publisher.
Larson introduces young children to all aspects of money in this wonderfully presented title,
What is Money, Anyway?: Why Dollars and Coins Have Value.
Children will quickly learn that:
money comes in different forms depending on your culture
American money is made up of coins and bills, all of which have a unique value
dollars are equivalent to some amount of coins
coins are made by the U.S. Mint
bills are made at the Bureau of Engraving and Printing
money wears out and is replaced in some way (shredding and remaking, or being melted)
money helps people "trade" for things we need (goods and services)

In a money-hungry society, it is important to teach children about money from the day they first become interested. If children are interested in money, take the opportunity to use money as a way to teach children responsibility. This will instill in them a sense of understanding that money is used for things we need and want and that sometimes, we can't always buy/have the things that we want. This is an important lesson that all children (and many adults, too) need to be taught and reminded of!
Reading/Learning Activity:
Check out the U.S. Mint website for fun games and activities for children.
If you are a parent or teacher, the U.S. Mint website also has a link complete with lesson plans, class activities, coin programs, and financial literacy, among other topics! You can find that link here!

If you're interested in finding out more information about any of the books reviewed or if you'd like to purchase the books, click the cover image for a link to Amazon.com. I am an Amazon Affiliate, so any purchases you make after clicking these images will result in my receiving a small percentage of the sale price!