Travel on a magical journey with the help of a little bubble gum!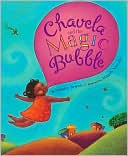 Brown, Monica.
Chavela and the Magic Bubble.
May 2010.
Houghton Mifflin Harcourt.
Review copy provided courtesy of publisher.
Chavela is a little girl who loves chewing gum - chicle, as it's known in Latin America. After visiting a store one day, she discovers a new, mysterious kind of chicle that takes her on the adventure of a lifetime - sending her deep into the rainforests of Mexico to discover the tree that produces the sapodilla that is the secret ingredient to chewing gum.
This unique story allows children the opportunity to enjoy a magical moment while at the same time learning a bit about Latin American culture - from language, to popular jobs and beyond. The story of
Chavela and the Magic Bubble
will also inspire children to be creative and find enjoyment in simple things! In ways,
Chavela and the Magic Bubble
reminds me of
Mathilda and the Orange Balloon
, in that is takes a simple, nearly-every day objects and shows how with a little imagination they can be so much more!


If you're interested in finding out more information about any of the books reviewed or if you'd like to purchase the books, click the cover image for a link to Amazon.com. I am an Amazon Affiliate, so any purchases you make after clicking these images will result in my receiving a small percentage of the sale price!