Dodsworth continues on his world-wide travels, this time visiting Paris!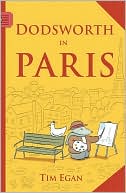 Egan, Tim.
Dodsworth in Paris.
May 2010.
Houghton Mifflin Harcourt.
Review copy provided courtesy of publisher.
As Dodsworth and the duck embark on an adventure to Paris, of course they get more than they bargained for, as is typical with the duck, he finds trouble! The duo travel around to all of the different famous Paris landmarks, allowing readers to gather just the slightest bit of information about Paris and all there is to be seen!
The Dodsworth series is wonderful if you'd like your children to experience the concept of traveling abroad without all of the involved expenses! The illustrations are fun, yet mostly accurate in their detail regarding different aspects of Paris. Coupled with the illustrations, the characters (Dodsworth and the duck) are enjoyable and will likely easily engage most children. In Dodsworth in Paris, your child will be exposed briefly to:
French language
culture (paintings, jugglers, dancers, berets, mimes)
French currency
Chateau de Paris
Eiffel Tower
Notre Dame Cathedral
Seine River
Tou de France
Louvre Museum

City of Lights

Learning/Reading Activity:
As you (and/or your child) read

Dodworth in Paris

have him/her take notes about all the different places mentioned that are related to Paris (places, culture, etc). After you have worked to come up with a list (see references above), have your child create a scrapbook of Dodsworth's Paris vacation! The activity directions can be found here!



If you're interested in finding out more information about any of the books reviewed or if you'd like to purchase the books, click the cover image for a link to Amazon.com. I am an Amazon Affiliate, so any purchases you make after clicking these images will result in my receiving a small percentage of the sale price!