A knitting gift basket for your daughter or granddaughter.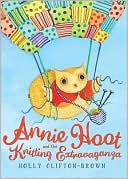 Clifton-Brown, Holly.
Annie Hoot and the Knitting Extravaganza.
August 2010.
Lerner Publishing.
Review copy provided courtesy of publisher.
Annie Hoot loves to knit. So much, in fact, that she spends her days knitting for a seemingly ungrateful bunch of friends. However, as they send her and her knitting away to give it to someone else, they quickly begin to realize just how much they miss their knitting friend. Just as Annie runs out of yarn for knitting, she finds a grateful bunch of animals - polar animals that will find her knitting a welcome addition to their lifestyle. Having given all her knitting away and using up all her yarn, Annie Hoot returns home... only to discover her friends have discovered they actually like all the things she had previously knitted for them and ask Annie to teach them how to knit!
I always loved Christmas gifts that kept on giving. Knitting is definitely a gift that can keep on giving, as once you know how to knit, you can keep on knitting and accomplishing more and more projects. Teaching your daughter or granddaughter how to knit would be a great way to spend Christmas vacation and get in some together time!
In your knitting gift basket, along with
Annie Hoot and the Knitting Extravaganza
, you could include:


If you're interested in finding out more information about any of the books reviewed or if you'd like to purchase the books, click the cover image for a link to Amazon.com. I am an Amazon Affiliate, so any purchases you make after clicking these images will result in my receiving a small percentage of the sale price!