Explore this bilingual text prior to spending a day at the beach!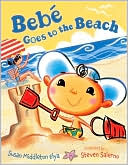 Elya, Susan Middleton.
Bebe Goes to the Beach.
May 2011.
Houghton Mifflin Harcourt.
Review copy provided courtesy of publisher.
When Mama, donning "her gafas" decides to take Bebe, dressed to the nines in his "gorro with fuzzy jirafas," to the beach on a hot summer day, it's bound to be an adventure as this waddling, toddling proves to be quite the handful! As soon as her "silla" is parked, Bebe takes off to explore the "olas" and all that the beach has to offer. As the duo explore throughout the day, readers are introduced to many beach terms in Spanish, allowing ample opportunity to turn a beach adventure into a learning adventure as well!
The book is fun, well-written and will definitely engage children and encourage them to further explore the Spanish language. The book is also a perfect choice for a summer read, as children love all things beach during the summertime!
Learning/Reading Activity:
Spend a day at the nearest beach with your child(ren). After enjoying a day in the sun, head home and have your child(ren) unwind by spending some time describing their day at the beach. Have your child(ren) use a pencil for this activity and after they are finished, break out a Spanish-English dictionary or use an online translator to translate some of their English nouns to Spanish to continue expanding your child's bilingual lexicon!

Tweet


If you're interested in finding out more information about any of the books reviewed or if you'd like to purchase the books, click the cover image for a link to Amazon.com. I am an Amazon Affiliate, so any purchases you make after clicking these images will result in my receiving a small percentage of the sale price!