I spy... habitats and their wildlife!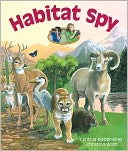 Kieber-King, Cynthia.
Habitat Spy.
March 2011.
Sylvan Dell Publishing.
Review copy provided courtesy of publisher.
In Cynthia Kieber-King's Habitat Spy, children are introduced to 13 different habitats - backyard, beach, bog, cave, desert, forest, meadow, mountain, ocean, plains, pond, river and cypress swamp. As they explore alongside the reader, the rhyming text engages children by pointing out different wildlife you would find in each of the habitats, sharing the text through the shape of binocular vision. This encourages children to become spies themselves, looking for each of the items mentioned, while opening the doors for wonderful conversation about the similarities and differences among the different habitats.
This is a wonderful book for children who are interested in nature or for those parents/teachers who are looking to share with children about different habitats!
Learning/Reading Activity:
Break out a pair of binoculars, or make a pretend pair. Head out to a local nature preserve with your binoculars (and your kids) and do some habitat spying! Have the kids take along their summer journal and document the different things they see in this local habitat. Then, after you're done exploring, head home and challenge them to write a poem about the things they saw in the habitat you explored!

Tweet


If you're interested in finding out more information about any of the books reviewed or if you'd like to purchase the books, click the cover image for a link to Amazon.com. I am an Amazon Affiliate, so any purchases you make after clicking these images will result in my receiving a small percentage of the sale price!