I had hoped to have this post up last weekend, but, as luck would have it, I was sick all weekend - so sick in fact, that I slept away the entire weekend! However, that left me somewhat mended and the rest of the week allowed me the chance to recover, so here's your February *Black History Month* Giveaway - better late than never!


Sanders, Nancy I.
D is for Drinking Gourd: An African American Alphabet.
September 2007.
Sleeping Bear Press.
Review copy provided courtesy of publisher.
Throughout the course of many years, African Americans have had a significant impact in history. From the Great Migration to the Harlem Renaissance to Kwanzaa and the Olympics, there isn't a topic untouched in this wonderful book that shares with the youngest (to the oldest) of readers important aspects of African American and their lives in history! The book is more than appropriate for readers of all ages, as the side notes provided extensive details about the "story" that allow readers to expand their knowledge as deemed appropriate for their ages. I'm so glad to be able to add this title to my history shelf!
Learning/Reading Activities:
Since this is an alphabet story, there are 26 topics covered. During the month of February, Black History Month, explore one of these topics each day, reading the appropriate page from the story and then completing some additional activity that coincides with that topic. A list of possible activities can be downloaded here!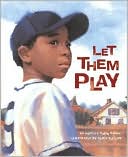 Raven, Margot Theis.
Let Them Play.
April 2005.
Sleeping Bear Press.
Review copy provided courtesy of publisher.
Telling the story of real 11 and 12- year old boys from Charleston, SC in 1955, readers take a step backwards in time to see just how unfairly African Americans were treated in the years of the Civil Rights Movement. This book will really hit home for children who are avid baseball fans, as they likely can't relate to the fact that African American children were being segregated on the ball field as well as in public schools. While their families bound together to do everything in their power, these children ultimately had to stand up for themselves upon actually arriving for the Little League World Series, in which they would not be allowed to play. However, they found triumph and support in the Northern states and won the hearts of many Americans while overcoming their struggle during that fateful summer.
What sealed the deal for me in this title (and almost made me cry) was the epilogue on the last page that shares with readers the pride that these same fourteen boys felt returning to Philadelphia forty-seven years later for the Little League World Series in 2002. This was a truly wonderful, inspiring story!
Learning/Reading Activities:
Discuss with your child(ren) how they would feel if they were unable to participate in sporting events for different reasons.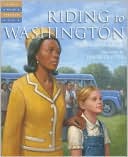 Swain, Gwenyth.
Riding to Washington.
January 2008.
Sleeping Bear Press.
Review copy provided courtesy of publisher.
Young Janie hops aboard the bus with her father and sets off to Washington, D.C. She's not really sure why she's going, but she quickly learns as along the way she and other passengers (white and black) on the bus experience segregation first hand due to their race or their association with the African American race. Janie quickly learns to stand up for what she believes in and learns that she too, despite her young age, can make a difference in the lives of others, even just for showing them support!
This book is wonderfully written and seems to accurately portray the mixed feelings and confusion of children during the Civil Rights Movement. Being told through the eyes of a child enables children of similar ages to easily connect with Janie's feelings and to gain an understanding of such a difficult concept to grasp (especially in today's day and age).
Learning/Reading Activities:
Sleeping Bear Press has provided a teacher's guide (free of charge) to use in collaboration with

Riding to Washington

. My personal favorite activity in the guide is "Beware of Prejudice," found on page 16. However, the entire guide can be downloaded here.
***Giveaway Details***

Sleeping Bear Press has generously offered up one copy of each of these three titles to one lucky blog reader. To be entered in the giveaway, simply follow the steps below!
Leave a comment on this post no later than 11:59pm EST on Saturday, February 20.
Give your favorite topic to learn about during Black History Month.
Make sure to leave an email address so I can contact you if you win!

If you're interested in finding out more information about any of the books reviewed or if you'd like to purchase the books, click the cover image for a link to Amazon.com. I am an Amazon Affiliate, so any purchases you make after clicking these images will result in my receiving a small percentage of the sale price!