A few fun Pizza read alouds for today with activities to match!


Castaldo, Nancy.
Pizza for the Queen.
2005.
Holiday House.
Guided Reading Level: L
Review copy borrowed from local library.
Based upon a true story,
Pizza for the Queen
shares the story of how Margherita Pizza came to be. Italian chef Raffaele Esposito, owner of Pietro e Basta Cosi pizzeria headed to work for a typical day. His typical day quickly turned atypical, as a request was made by Queen Margherita to try one of the pizzas that everyone is talking about. Raffaele sets out to make three of the most popular pizzas requested by customers. However, he's lacking the key ingredient to one of the three and therefore sets out to create a unique third pizza, that combines ingredients that match the colors of the Italian flag. The creation later became known as Pizza Margherita, gaining its name from none other than Queen Margherita and her love of the pizza creation.
Learning/Reading Activity:
Use this recipe and create Margherita Pizza for dinner one night. It will be a cultural experience of sorts for children and also educational, as they will have an understanding of how this particular pizza came to be!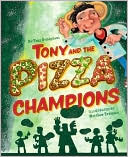 Gemignani, Tony.
Tony and the Pizza Champions.
2009.
Chronicle Books.
Review copy borrowed from local library.
Tony Gemignani is actually a World Champion Pizza Tosser! This fictionalized account of the championship is sure to have kids drawn in from the get-go! Children will love learning about the World Championship team and their fancy moves that gained them the world title! The story is educational and very fun to read!
Learning/Reading Activities:
Head out to the local grocery store and pick up a ball of pizza dough - one for each member of the family. Watch this video about pizza dough tossing and then, the real kicker... give it a whirl in your own kitchen. See if you can toss the dough correctly and then take turns adding in your own special moves! Kids will love this activity!

Sturges, Philemon.
The Little Red Hen Makes a Pizza.
1999.
Dutton Children's Books.
Guided Reading Level: M
Review copy borrowed from local library.
In this take on the traditional version of
The Little Red Hen
, Philemon Sturges modernizes the tale by tackling a subject so many children are familiar (or at least interested) with - making a pizza. While the little red hen goes about making a pizza, he requests help from each of his friends, all of whom are too busy doing their own thing. However, when it comes time to sharing the pizza, they're all ready and willing - luckily, rather than being spiteful, the little red hen shares the pizza... and after enjoying the benefits of the pizza, all of little red hen's friends agree to help with the dishes!
I've always been a fan of
The Little Red Hen
, so I was very eager to include this in today's write-up! I hope you and your child(ren) find it as enjoyable it as much as I do!
Learning/Reading Activities:
Maggie Nuttall has created a wonderful teaching guide to use in collaboration with

The Little Red Hen (Makes a Pizza)

. There are science, math and art activities, as well as comprehension questions and more! The packet can be found here.

If you're interested in finding out more information about any of the books reviewed or if you'd like to purchase the books, click the cover image for a link to Amazon.com. I am an Amazon Affiliate, so any purchases you make after clicking these images will result in my receiving a small percentage of the sale price!