So, I've not been doing well with the whole "Slapdash Saturday" thing... so I figured I'd shoot for Sunday this week... better late then never! All of today's book are published by HarperCollins and were generously passed along to me for review for the 2009 Cybils Awards!

Gaiman, Neil.
Blueberry Girl.
March 2009.
HarperCollins.
Review copy provided courtesy of publisher.
As a much loved baby girl grows into a woman,
Blueberry Girl
offers a prayer of a brave, adventurous life - spent exploring, traveling, basking in the sunshine... all surrounded by wonder.
This is a wonderful book to gift at baby showers, Christenings and even graduations and can easily be personalized for that special little girl with a sweet, written message of your own!

Urbanovic, Jackie.
Duck and Cover.
January 2009.
HarperCollins.
Review copy provided courtesy of publisher.
Harold the alligator escapes the zoo after running into trouble with a dog - a hot dog that is, although there's obviously been a misunderstanding! He seeks safety in the home of Irene, owner to a whole slough of other rescued animals. It's not long before the zoo keeper comes after Harold... but the animals at Irene's have all taken a liking to Harold and are reluctant to give him up!
Children will love this funny book in which, Max, a now likely familiar character returns on yet another adventure - this time with Harold the alligator! The lively dialogue will only add to the appeal with this title as a read-aloud for young children!
Learning/Reading Activity:
A Pros/Cons journal activity can be downloaded here!

Kann, Victoria.
Goldilicious.
May 2009.
HarperCollins.
Review copy provided courtesy of publisher.
Pinkalicious returns in this delightful tale of a little girl and her pet unicorn! Girls will delight in the story of all things pink and gold! Unfortunately, boys will likely be less than thrilled with this story, as the language will seem giddy and too-girly to them!
There are two other books in this series that will instantly become must-haves for fans for
Goldilicious
or even
Fancy Nancy
fans:
Pinkalicious
and
Purplicious
.
Reading Activity:
Mid-winter break will soon be upon us! Choose a day and deem it "Partilicious." Pamper your daughter(s) and her friends! Ask each little girl to come to the party decked out in a different color of the rainbow. Refer to her as pinkalicious, redalicious, bluealicious, purplicious, orangelicious, etc. Create a cupcake station where each child decorates a cupcake that celebrates her! The girls could also make a necklace and magic wand to celebrate her! To avoid conflict over who gets what color, put all the different colors of the rainbow in a hat and have each child draw a color!


Gaiman, Neil.
Crazy Hair.
May 2009.
HarperCollins.
Review copy provided courtesy of publisher.
Crazy hair doesn't even begin to describe the hair inside this book! Comical images appear throughout with what seems to be photoshopped hair that appears so life-like you'll want to reach out and touch it! The story itself is very creative and funny, making light of crazy hairdos. Despite the craziness, I found a deep message lingering within - make the best of a bad situation - if you're having a bad hair day, use your imagination to come up with a creative explanation! The funny rhyming text combines fun into crazy hair, making this a perfect read-aloud for a Friday afternoon at school!
Reading/Learning Activity:
After reading this book, use it as the basis for a family craft project! The worksheet and directions can be downloaded here.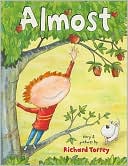 Torrey, Richard.
Almost.
May 2009.
HarperCollins.
Review copy provided courtesy of publisher.
Almost grown-up.
Almost ride a bike.
Almost like vegetables.
Almost the best at karate.
These are just a few of things that almost six-year old Jack can almost do! Children of all ages will appreciate the real story being told here, whether six or twelve! There's an important lesson to be learned... it's okay to enjoy being young, you still have lots of growing up to do - even as an adult! Coupled with the story, very colorful illustrations depict Jack's emotions perfectly and will allow children to connect to this story on a personal level!
Learning/Reading Activity:
Discuss with your child(ren) the things he/she can do now and the things he/she can ALMOST do. Determine a time/age in which these "almost" activities will be able to be done... (i.e. have an allowance, walk to a friend's house alone, ride a bike without a helmet, etc.). Along with determining when these activities can be completed, discuss the reasons why, at this point, they can't.

If you're interested in finding out more information about any of the books reviewed or if you'd like to purchase the books, click the cover image for a link to Amazon.com. I am an Amazon Affiliate, so any purchases you make after clicking these images will result in my receiving a small percentage of the sale price!