Could there be an educational side to Fancy Nancy?!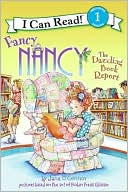 O'Connor, Jane.
Fancy Nancy: The Dazzling Book Report.
March 2009.
HarperCollins.
Review copy provided courtesy of publisher.
It's Monday and that means it's Library Day for Fancy Nancy. Nancy and her classmates all choose a special book to take home with them for the week. Nancy chooses a book on Sacajawea. Just when she thinks things can't get any better, Nancy and her classmates are assigned the task of a book report. Nancy spends so much time making her cover look dazzling that she leaves no time for the words to report to her classmates about the book! However, Nancy quickly learns that a book report can take on more than one format that just something written, as she is given the opportunity to speak about Sacajawea.
Teachers can use this Fancy Nancy title to share with students what a "book report" is and to introduce different book report formats. Parents can use this to help spike an interest in helping a child complete a book report! And of course, Fancy Nancy fans will find this an inspiration when trying to complete a book report project, as Nancy can make just about anything fun (and fancy)!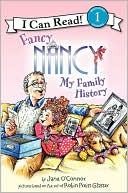 O'Connor, Jane.
Fancy Nancy: My Family History.
October 2010.
HarperCollins.
Review copy provided courtesy of publisher.
Fancy Nancy has to write a report about her ancestors for school. When she feels her report is lacking interesting information, she "exaggerates" on the details, trying to spice things up. She quickly comes to realize that her exaggerations would leave her ancestors feeling less than proud of her and decides to rewrite the report in order to make her grandfather and his father proud.
This would make for a great introduction for teachers to use when starting to study a unit on ancestors and families. Parents could also use this book as a way to peak an interest in children learning about their own families and taking pride in their family's personal accomplishments. And, Fancy Nancy fans will learn that exaggerating the details with "fancy" facts really isn't the best way to go!


If you're interested in finding out more information about any of the books reviewed or if you'd like to purchase the books, click the cover image for a link to Amazon.com. I am an Amazon Affiliate, so any purchases you make after clicking these images will result in my receiving a small percentage of the sale price!