Experience the challenges of growing up in the early 1950's through the eyes of Ruth, a young African-American girl.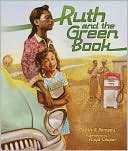 Ramsey, Calvin Alexander.
Ruth and the Green Book.
August 2010.
Lerner Publishing Group.
Review copy provided courtesy of publisher.
Ruth's father has just bought the family's first car - intended to use for his new job. However, before he starts the new job, the family plans to take a trip to visit Grandma in Alabama. It all sounds good and easy enough. However, as the family sets off on the adventure, they learn first hand what being "black" in the south meant, facing daily prejudices and hardships along the way to Alabama. When an attendant at an Esso station provides the family with information about "The Negro Motorist Green Book" which is quickly purchased to assist them in their travels. Apparently, "The Negro Motorist Green Book" was a guide to help traveling black people reach places where they would be welcome to eat, shop, sleep, get a haircut and more. Ruth is quickly put in charge of being the navigator and helping the family make it safely to Alabama by relying on the assistance of those who would willingly provide it!
This is a wonderful story, as it seems to realistically portray what African Americans faced during the Jim Crow years. For more information about the Green Book or to access the actual 1956 Green Book (all found to download on the right hand side of the page), visit
Lerner Publishing Group's website for

Ruth and the Green Book
. There's a ton of interesting info here on the topic and it's definitely worth checking out before Black History Month ends!


If you're interested in finding out more information about any of the books reviewed or if you'd like to purchase the books, click the cover image for a link to Amazon.com. I am an Amazon Affiliate, so any purchases you make after clicking these images will result in my receiving a small percentage of the sale price!