Introduce art museums with this Fancy Nancy masterpiece (that's fancy for great work)!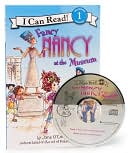 O'Connor, Jane.
Fancy Nancy and the Museum.
September 2009.
HarperCollins.
Review copy provided courtesy of publisher.
Nancy and her classmates are visiting an art museum for the first time. There they will learn about all sorts of art work - landscapes, still lives and portraits. There's a great deal to be learned throughout this story, not including all of Nancy's fancy language! Of course, Nancy has to look fancy for her trip to the museum, resulting in a bus ordeal and the discovery of the language surrounding artists garb!
Have your child(ren) research and experiment with the three types of paintings discussed in this Fancy Nancy title. Spend some time creating a still life, a portrait and a landscape of your child's choosing. If they'd like something to refer to, you could always use webshots for some great photographs to try and recreate!


If you're interested in finding out more information about any of the books reviewed or if you'd like to purchase the books, click the cover image for a link to Amazon.com. I am an Amazon Affiliate, so any purchases you make after clicking these images will result in my receiving a small percentage of the sale price!