April is National Poetry Month and lucky for you (and me) in the mail came four brand new poetry books (released earlier this month) that I'm going to share with you today! From each one, I will share one of my favorite poems and some teaching activities! If any of them appeal to you, just click on the image and you'll link to Amazon.com where you can pick up a copy for yourself and the kids!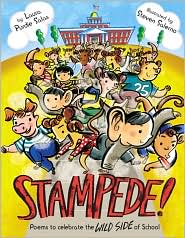 Salas, Laura Purdie.
Stampede!: Poems to Celebrate the Wild Side of School.
April 2009.
Clarion Books.
As a child I used to enjoy reading poetry but hated writing it! This book only reinforces my love of reading it and inspires me to try and make it appeal to any students I may come into contact with over the years, both in reading and writing poetry! It might be neat to challenge the kids to write a poem about a school experience - something they love, something they hate, some emotion they feel.
Laura Purdie Salas tries to capture all of this and more in her newest work,
Stampede!: Poems to Celebrate the Wild Side of School.
There are children who wish to disappear because they didn't study. A new student feeling as her new school is a maze in which she is trapped. A child who blushes after feeling embarrassed by the rumors being spread. And a teacher trying to keep her ducklings moving as they should through the halls! That's the poem I've chosen to share with you as my favorite from the book. I've often felt this way as a substitute teacher trying to control the seemingly wild animals as we move through the hallway! It is titled,
Ducks in a Row.
Enjoy!
D

o you all


U

nderstand how we walk while in school?


C

hildren, listen!


K

eep quiet's the number one rule.


L

eave the lockers alone and


I

'm sure you'll do fine.


N

o poking or


G

iggling - and


S

tay in your line!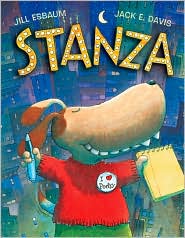 Esbaum, Jill.
Stanza.
April 2009.
Harcourt Children's Books.
Stanza is a dog who loves poetry - both reading and writing it. However, he's got a couple of rotten brothers that take Stanza's hobby and make fun of him. Therefore, Stanza must hide his poetry (poems about first snowfalls, a colorful bird, the 7th Street hydrant, and a song; haiku about the earth, the sky and the sea; and sonnets about chicken pot pie) and hopes that his brothers won't find it. However, one day Stanza finds a notice about a store that is looking for poetry participants to promote one of their new products. Stanza hesitates but eventually decides that his passion is poetry and he has to enter this contest to try and win the prize. He comes in 2nd place, but of course, his rotten brothers are there to belittle him for his efforts. However, their teasing is short-lived once they decide they want Stanza to share his prize - a years worth of Chicken Pot Pie flavored snappers. Stanza's not selfish though and instead decides to use the opportunity to teach his brothers a lesson - that we all have different talents and we should appreciate each others!
I really enjoyed this books, as I feel it might give children the boost they need to attempt their hand at writing poetry. It also shows that not everyone will be 100% successful in writing poetry and that some find writing poetry easier than others. I could see using this book as a classroom project, asking students to write some of Stanza's poetry - poems about first snowfalls, a colorful bird, the 7th Street hydrant or a song - haiku about the earth, the sea and the sky - or a sonnet about chicken pot pie. Have students draw slips from a hat and then have their hand at writing about whichever they topic they have drawn... of course, they'll have to know what poems, haiku, and sonnets are first, though!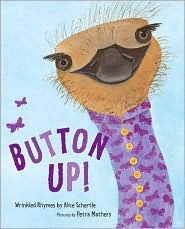 Schertle, Alice.
Button Up!: Wrinkled Rhymes.
April 2009.
Harcourt Children's B
ooks.
This poetry collection showcases that the clothes you'll find in your own closet are as unique as you, just as they are as unique as the character that proudly displays them in the book. This might just serve as an interesting introduction to get students writing poetry about their favorite piece of clothing! The poems are really funny and have a lot of rhyming text. The clothing styles written about will surely have kids chuckling - a Halloween costume, underwear, galoshes, a soccer jersey, and jammies are just a few of those mentioned! My
My personal favorite is
Tanya's Old T-Shirt
although
The Song of Harvey's Galoshes
hard to pass by!
I live in a bucket shoved under a stair.
They call me a

dust rag

!
I don't think it's fair.

I'm still the same size as when I was new.
I didn't shrink -
it was Tanya who

GREW

.

She started out small and we fit to a T.
Now she's big as a sofa!
She's tall as a tree!
She's out of control, and they're dusting with

me

!

You'll never, not

ever


hear anyone say,
"She's gotten too big, she's just in the way,
let's dust the piano with Tanya today."
Sidman, Joyce.
Red Sings from Treetops: A Year in Colors.
2009.
Houghton Mifflin Books for Children.
At first, as I was reading this I was a bit confused by it, but once I got about a third of the way through, I was all wrapped up in it and ideas were flowing through my mind about how I could use this in a classroom with students. And how would I do that, you're probably asking yourself (and me) right now! The book features poems about how each color is present in each season. However, along with the poems, there is an artistic/crafty element that could make the project more fun for students.
Read the book with students. Discuss the poems and whether or not students agree with the use of the colors to identify seasons.

Assign each student a color.
Once the students have been assigned their color, divide the class into four groups, one for each season. Based on the season that students have and their color, they should then write their own poem about how the color is present in their assigned season.

After poems have been written and edited and final drafts have been written, allow students to illustrate their poem and their color, reminding them again of the way that Pamela Zagarenski completed the illustrations in the book.

Everyday colors are brought to life in this book about the seasons. The poetic verses allow readers to feel that the book is not to flow as a story but to see each color as an individual among each season. The book was really clever and I think it will definitely appeal to the 2nd through 5th grade age range. Like I would imagine the students will, I have a personal favorite that I'm going to share with you!
And where is

Blue

?
Humming, shimmering,
snoozing in the lazy haze.
Dancing on the water
with

Yellow

and

Green

.
In summer,


Blue

grows new names:


turquoise

,


azure

,


cerulean

.
If you're interested in finding out more information about any of the books reviewed or if you'd like to purchase the books, click the cover image for a link to Amazon.com.