I may or may not participate in Mailbox Monday (hosted by
The Printed Page
) every Monday, but I do have a couple of reviews for this week. However, the books did not arrive this past week... I've had them laying around for a couple of weeks, just didn't have the time to get to the reviews before then. However, here they are!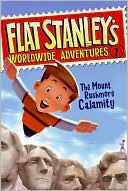 Brown, Jeff (Creator).
Pennypacker, Sara (Author).
Flat Stanley's Worldwide Adventures #1: The Mount Rushmore Calamity
Release Date: April 21, 2009.
HarperCollins Publishers.
Jeff Brown's original character, Stanley, created forty-five years ago, who was flattened by a bulletin board that fell on him in the middle of the night, makes an adventurous return as Sara Pennypacker continues his series, using the same schema of Brown's original
Flat Stanley
.
I can easily see how children will be drawn to this new series - not only is Stanley a young boy facing the daily trials and tribulations of life, he's also facing flatness, unsure of whether or not he will ever return to his normal being. Despite his flatness, the family continues to try and adapt a somewhat normal lifestyle for Stanley and his younger brother Arthur, by taking them on a road trip to Mount Rushmore in the Black Hills of South Dakota. Throughout the duration of their trip, the Lambchop family faces much adventure, all of which will keep readers captivated. The book does draw in portions of U.S. history.
I feel this book would best be used in an educational setting as a guided reading selection to complement a Social Studies unit on the Gold Rush, Native Americans and/or Mount Rushmore.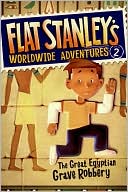 Brown, Jeff (Creator).
PennyPacker, Sara (Author).
Flat Stanley's Worldwide Adventures #2: The Great Egyptian Grave Robbery
Release Date: April 21, 2009.
HarperCollins Publishers.
Sara Pennypacker returns in the second of Flat Stanley's Worldwide Adventures - this time he's making the trip on his own, as no mention of his family being involved is mentioned in the letter that Stanley receives one morning before breakfast. Within just a few minutes, Stanley is ready to go, folded up inside the envelope (once again thanks to his being flattened by a falling bulletin board one night). After a long journey, Stanley arrives in Egypt, ready to embark on his adventures while trying to help out in an archaeological project involving deceased pharaohs and tombs inside the pyramids, all important aspects of Egyptian history.
This book reveals a great deal about Egyptian lifestyle and culture and is definitely a worthy read for children who are interested in history or who may be studying about Egypt!
This book is truly wonderful. At first, I thought I was going to have a hard time finishing it, but the farther I got into it, the harder it was to put down. I almost felt as though I was walking alongside Calpurnia in the summer of 1899 on her search for her identity among a family of six brothers and struggling for all intents and purposes, against fulfilling the traditionally female roles at the turn of the century.
Calpurnia is a young girl, eleven years old facing the brink of puberty and what that means for the remains of her life - grooming to be a housewife and mother, not something that Calpurnia is the least bit interested in. As she sets out in hopes of avoiding her mother and the never-ending array of chores set aside for 'girls', Calpurnia ends up taking to her grandfather and is gradually drawn in to his love of exploration and all things science. Soon, Calpurnia begins reading Darwin's
Evolution of the Species
and despite struggling with the text, continues to show an interest in the topic. Together with her grandfather, Calpurnia is slowing recognizing exactly what it is she's searching for in her life and by the end of the story is more determined than ever to break the stereotypical role inflicted on women by society and dreams to attend college to study science.
This is definitely a worthy read for girls in fourth-seventh grade, especially if they already show a budding interest in science or are struggling to appreciate science. The story would also fit well as part of an integrated unit on evolution, as the subject is highly touched upon in the story.
If you're interested in finding out more information about any of the books reviewed or if you'd like to purchase the books, click the cover image for a link to Amazon.com.