It's Mark Teague's Birthday today, so I've got some reviews of several of his books. Here's a few trivia facts for you, as well though!
Mark Teague lives in upstate NY (very close to home for me, as I'm in central NY).
He is an illustrator of award winning books (How do Dinosaurs Say Goodnight?)
His books tackle common childhood fears and challenges.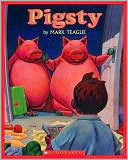 Teague, Mark.
Pigsty.
1994.
Scholastic Inc.: New York.

Ages: 4-8
Genre: Fiction
Guided Reading Level: M

Summary/Review:

Wendell, a young boy, just will not clean his room - he doesn't mind living in a pigsty, he reiterates to his mother. However, when the pigs start showing up in his pigsty, he begins to reconsider. Sure, they make for fun playmates, but they really make the pigsty more piggish! Wendell finally can't stand the mess anymore and decides to clean his room, but first, he enlists the help of the pigs who have moved in. Once the room is all cleaned up he sends the pigs packing, deciding they ultimately do belong on the farm, but promises to invite them over from time to time to play and have fun.

This is a humorous story that children are sure to love! It also would be a good teaching tool for introducing students to the idea of proverbs, as Wendell remembers a saying he once heard, "many hooves make light work." This proverb is what inspired him enlisting the help of all the pigs and their hooves to clean the room!

Lesson Plans/Book Activities:
Teague, Mark.
Dear Mrs. LaRue: Letters from Obedience School.
2002.
Scholastic, Inc.: New York, NY.

Ages: 4-10
Genre: Fiction, Writing Letters
Guided Reading Level: L

Summary/Review:

Ike has been sent to obedience school and is not happy about being there! He hates it so much, he goes as far as trying to be sent home, faking illnesses and writing letters to his owner, Mrs. LaRue.

From my own personal experience, kids love this story. It's humorous and the letters have the kids seeking more! Luckily, Ike LaRue has now become a series! Check out some of the other books in the series below!

Other Books in the Mrs. LaRue series:

Teague, Mark.
The Field Beyond the Outfield.
1992.
Scholastic, Inc.: New York, NY.

Ages: 4-12
Genre: Fiction, Fantasy
Guided Reading Level: L

Summary/Review:

Ludlow's parents have had enough of his fantasies and day-dreaming. They feel that if he's involved in something, he won't have so much time to imagine things, so they sign him up for baseball. Ludlow goes along with his parents' wishes but his daydreaming continues! He plays so far back in the outfield, he joins another baseball game as well as his own- a game played by monsters. His lack of action on the ball field enabled his imagination in new ways and Ludlow goes to bed that night, not worrying about the monsters that may or may not be in the closet!

This is a clever story that I'm sure will capture the attention of children who have a vivid imagination. Baseball players will also be drawn in by this title by Teague!