Today is Weatherman's Day! I have some weather-related books for review today!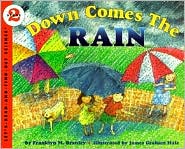 Branley, Franklyn.
Down Comes the Rain.
1997.
Harper Collins Publishers: New York, NY.
Ages: 5-8
Genre/Subjects: Non-Fiction, Weather
Guided Reading Level: N

Review/Summary:
Young children tell the story of weather, most specifically, rain and how rain comes about. The text is simple and will likely easily be understood by even the youngest children. The dialogue bubbles showing the character's words in the illustrations connect these scientific concepts to children's everyday lives.
Lesson Plans/Book Activities: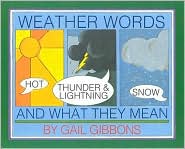 Gibbons, Gail.
Weather Words and What They Mean.
1990.
Holiday House: New York, NY.
Ages: 5-8
Genre/Subects: Non-fiction, Weather
Guided Reading Level: R
Review/Summary:
As can be expected from any Gail Gibbons book, this is full of information that would be of interest to children. In this non-fiction text relating to the weather, children can gain a basic understanding of weather terminology and understand it based on the illustrations that match alongside the text. This would fit perfectly into a thematic unit on the weather.
Lesson Plans/Book Activities: