Jumpstart your child's creativity this summer with the help of
Diary of an American Kid
!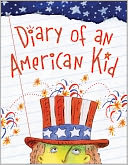 Sleeping Bear Editor.
Diary of an American Kid.
June 2011.
Sleeping Bear Press.
Review copy provided courtesy of publisher.
One might expect a story similar to the Diary of a Wimpy Kid series or Dork Diaries upon first seeing this book... however, what the reader finds may or may not be even better - to me, I found Diary of an American Kid to be an awesome, inspiring way to start children on the path to using their creativity this summer and to inspire a love of journaling for years to come.
This 128-page book becomes a keepsake for children by allowing them the creativity and freedom to include ideas, daydreams, thoughts and feelings, and doodles over the course of time. Some pages provide fun and creative writing prompts, while others provide room for drawing/doodling, while yet others still have children reflecting about their day. The book would be a perfect way to instill a love of journaling while providing children with just enough structure to get them started!
Learning/Reading Activity:
Provide your child with a notebook or journal book similar to Diary of an American Kid to encourage the activity of keeping a journal this summer! Some suggestions are:

* The Wimpy Kid Do-It-Yourself Book, Jeff Kinney
* Doodle Diary: Art Journaling for Girls, Dawn DeVries Sokol
* The Absolutely True, Positively Awesome Book About... ME!!!, Jessica Wilbur
* My Personal Yearbook, Cottonwood Press
* Dude Diary, Mickey and Cheryl Gill
* All About Me: A Keepsake Journal for Kids, Linda Kranz
* Kid's Trip Diary: Kids! Write About Your Own Adventures and Experiences, Loris Bree
* My Book About Me, by Dr. Seuss
* Top Secret, Personal Beeswax by Junie B. (and Me)!, Barbara Park

HOW TO ENTER THE GIVEAWAY:
In a comment on this post,

share with me your experience with journaling - were you a journal writer? How frequently? Do you still journal?



Be sure to

leave an email address

along with your comment.
Deadline to enter is

Monday, July 4 at 11:59PM EST

.

For an extra entry(or three)

in

SEPARATE

comments:
1. Become a subscriber/follower of my blog (+1)
2. Follow me on Twitter - link on right! (+1)
3. Blog about this giveaway on your own blog and leave a link (+1)
4. Leave a tweet on your Twitter page and then leave a link (+1)
Contest is open to

U.S. Residents

only, sorry for any inconveniences!
Winner will be selected on

Tuesday, July 5th

and will receive a copy of

Diary of an American Kid!
Tweet


If you're interested in finding out more information about any of the books reviewed or if you'd like to purchase the books, click the cover image for a link to Amazon.com. I am an Amazon Affiliate, so any purchases you make after clicking these images will result in my receiving a small percentage of the sale price!