Help children understand the importance and benefits of gardening.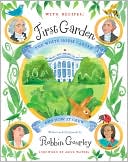 Gourley, Robbin.
First Garden: The White House Garden and How It Grew.
April 2011.
Houghton Mifflin Harcourt.
Review copy provided courtesy of publisher.
The White House Garden was introduced in 2009 by Michelle Obama in the hopes of raising awareness about the health of the American people, inspiring individuals and families to think about where our food comes from and what we eat, and encouraging the consumption of more fruits and vegetables. First Garden: The White House Garden and How it Grew shares with readers all this, as well as gives readers a look into the use of the White House grounds in the past . After detailing the specific garden planted at the Obama White House, Gourley shares with readers tips to eating healthier, reasons to garden, and White House recipes using the garden produce.
The book is incredibly well thought out and could be used in a variety of purposes with children. It's definitely worth sharing to promote awareness of gardening and healthy eating habits. I would think this book would be most welcome on library shelves for random checking out by patrons!
Learning/Reading Activities:
It's not to late to plant a garden for the summer! Head out to your local garden store and pick up some sprouts to plant in the garden to get you started!

Have your child complete the following activity in their summer reading journal. After you head to the store to pick out sprouts for your own garden, have your child create the design of your garden. Encourage them to be creative in their design and use some of the mathematical formulas they may be familiar with (area, perimeter, etc) in planning the design.

Tweet
If you're interested in finding out more information about any of the books reviewed or if you'd like to purchase the books, click the cover image for a link to Amazon.com. I am an Amazon Affiliate, so any purchases you make after clicking these images will result in my receiving a small percentage of the sale price!