Help your older children celebrate the 4th of July with the latest release in the
Martha Speaks
series,
Fireworks for All/Fuegos artificiales para todos
!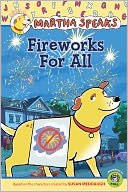 Barrs, Karen
Meddaugh, Susan.
Martha Speaks: Fireworks for All/Martha Habla: Fuegos artificiales para todos.
April 2011.
Houghton Mifflin Harcourt.
Review copy provided courtesy of publisher.
Everyone is looking forward to summer - every that is, except for the dogs. And the culprit for the excitement and hesitation? Fireworks. Most all of the people and families are looking forward to the endless Saturdays of fireworks. However, those same fireworks that spark excitement cause the dogs to feel scared, as the loud noises bother their ears. While one community member works to ban the fireworks, all the dogs join in, until they see how upset their owners are over the cause. Together, the dogs and their owners team up to come up with a compromise that will please both sides.
Written as a bilingual text, Martha Speaks: Fireworks for All/Martha habla: Fuegos artificiales para todos will appeal to many, as it is simple and readable by both English and Spanish speaking children. The Spanish, which nearly matches word for word with the English version, will also foster a curious interest in bilingualism among children. The book is also perfect for the upcoming 4th of July holiday and great for summer reading.
Learning/Reading Activity:
In their summer reading journal, have children write about their favorite firework pattern (shape, color, what it looks like). (I always pick the weeping willows as my favorite!) Then, after they've written about their favorite firework, have them use glitter and glue to create fireworks on the paper by pouring a blob of glue and then tipping and twisting the paper to allow the glue to flow into "firework" shapes. Sprinkle generous amounts of glitter on the glue and allow it to dry, then tip the paper and blow away the loose glitter.

Tweet


If you're interested in finding out more information about any of the books reviewed or if you'd like to purchase the books, click the cover image for a link to Amazon.com. I am an Amazon Affiliate, so any purchases you make after clicking these images will result in my receiving a small percentage of the sale price!