Can there be a right pet for Miss Wright? Or, is a pet wrong for Miss Wright?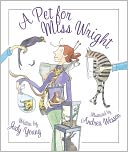 Young, Judy.
A Pet for Miss Wright.
April 2011.
Sleeping Bear Press.
Review copy provided courtesy of publisher.
Miss Wright, a writer, loves her work. However, being an author can get lonely and Miss Wright wants to do something to right that lonely situation and opts to head to the pet store. The clerk at the store reassures Miss Wright that he has the "right" pet for her and gives her a bird. However, the bird doesn't talk as promised, but rather mimics the sound of the clicking keyboard. Miss Wright returns the mynah bird, as he isn't the right pet! The mynah bird is exchanged for a monkey, but it turns out a monkey isn't the right pet either. Miss Wright experiments with a fish, a hamster, and a cat, yet none of those seem to be the right pet for her. Just when she thinks there is no hope left of finding a pet to keep her from being so lonely, Miss Wright finds the right pet for herself... what could possibly be the right pet for Miss Wright?
This book was very humorous! Adults will enjoy the subtlety of humor, which may or may not be picked up by children, yet children will find great pleasure in the story line itself and the mishaps Miss Wright experiences with each of the pets she tries out! This is definitely a great read this summer!
Learning/Reading Activity:
Have children write an additional part to the story, that could be added prior to Miss Wright finding her "right" pet. On Popsicle sticks, write the name of different kinds of animals. Have each child choose a Popsicle stick and then write in their summer journal an adventure that Miss Wright has with that pet that results in her exchanging it for a different one. The stories don't need to be extremely detailed - just enough so that children use their imagination creatively and respond to text during the summer school-free months!

Tweet


If you're interested in finding out more information about any of the books reviewed or if you'd like to purchase the books, click the cover image for a link to Amazon.com. I am an Amazon Affiliate, so any purchases you make after clicking these images will result in my receiving a small percentage of the sale price!