Yeah! I've gotten a new children's book in the mail and after reading it, I've become inspired to try out a new weekly feature... hopefully I'll be able to keep on top of it and actually post a different literacy work station each week! You can look for this post sometime on Wednesday afternoons... That'll give you just enough time to collect the materials and have everything in place come Monday morning!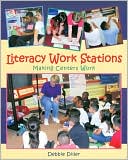 For those of you not familiar with literacy work stations, the ones I post on my blog will be similar to what Debbie Diller defines as a "literacy work station" in
Literacy Work Stations: Making Centers Work
:
A literacy work station is an area within the classroom where students work alone or interact with one another, using instructional materials to explore and expand their literacy. It is a place where a variety of activities reinforce and/or expand learning, often without the assistance of the classroom teacher. It is a time for children to practice reading, writing, speaking, listening and working with letters and words.
My post will feature five activities, one for every day of the week and will have some sort of central theme, which I will clearly post for all!
If you're interested in finding out more information about any of the books reviewed or if you'd like to purchase the books, click the cover image for a link to Amazon.com.