My earlier post today featured books related to moving for young children.... this next review is one I received in the mail about a month ago, but have held off on posting a review until today... because it's perfect for teaching an important lesson to middle grade readers who are dealing with the emotions surrounding a move to a new home/city.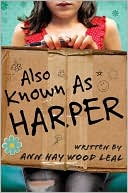 Leal, Ann Haywood.
Also Known As Harper.
2009.
Henry Holt and Company, LLC, Books for Young Readers.
I can honestly say I've never been quite as touched by any middle-grade fiction novel as I was by
Also Known as Harper
. This book will allow 9-12 year olds to realistically see how children (much like themselves) are effected daily by poverty. I think children across the board would benefit from reading this touching story and watching as young Harper Lee Morgan deals with the hand her family has been dealt - being evicted from their rental unit while her mother struggles to pay the rent and bills after her father up and left the family one day unannounced, ultimately overcoming their hardships to a certain degree.
Harper Lee Morgan got her name from her mother's favorite writer, Harper Lee
,
most famous from her novel,
To Kill a Mockingbird
. The book is referred to throughout this novel, almost acting as a constant for Harper and her little brother, Hemingway. It is evident that Harper takes after her mother from the very get-go... she's an aspiring poet who learned her love of words from her mother, who dreamed of one day writing a book. However, life has dealt them from a different deck of cards. Instead of chasing their dreams, Mama, Harper and Hemingway are struggling from day-to-day to make ends meet after being evicted. As if being evicted isn't bad enough, Harper learns she's going to miss being able to compete in the poetry contest at school... However, with the help of her new homeless friends, Harper ends up winning big time - sharing her poetry with the people who will most appreciate it, her mother, Hemingway, Lorraine, Randall and Dorothy.
Despite the hardships they face, Harper learns to make the most of each situation she is dealt. This book will help young readers to appreciate the lives they are living, show them to be thankful for the home they have! This is a wonderful book and I only hope that someday I will be able to share this with a classroom full of children!
If you're interested in finding out more information about any of the books reviewed or if you'd like to purchase the books, click the cover image for a link to Amazon.com.