Those of you who suffer from them, know how much a sinus headache is capable of taking away from a perfectly productive day... I went to bed with it last night (hence the reason for not having the post ready ahead of time) and woke up with an even worse one this morning. Most of the day was spent avoiding bright light (it only intensified the headache) and the computer, as I tend to strain my eyes and make the headache worse.
So, I apologize for not having much for you in the way of a post for earlier today, but I have managed to pull it together for late tonight... and since it is just a National Bike
Month
you still have lots of time left to enjoy these books!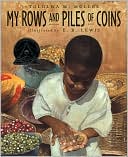 Mollol, Tololwa M.
My Rows and Piles of Coins.
1999.
Houghton Mifflin Harcourt.
Guided Reading Level: P
This book would make a perfect fit in a classroom where the emphasis is on multicultural education. Not only does the story depict another culture (Tanzania), it does so in a way that is likely to appeal to children and allow them to see how children across the world (no matter their culture) really do, for the most part, lead similar lifestyles... I think it's a wonderful book and well worth the read!
Saruni, a young Tanzanian boy, sets off to the market with his mother every Saturday, and sometimes on Wednesdays as well. For his help, his mother gives him five ten-cent coins, and allows him to go buy himself something (its an allowance of sorts, much like today's children receive). Saruni has different plans for his money - saving it in his secret money box so that he can buy a red and blue bicycle that he's spotted at market. He wants the bicycle so that he can help his mother carry more of her goods to the market, in hopes that she will be able to sell more. When his mother and father learn of Saruni's attention, they "sell" him his father's old bicycle and then give him back all of the money from Saruni's secret money box. However, now that he's got a bike, he realizes that he wants a cart to pull behind the bike and starts socking his hard-earned money away for that!
The story shows children the pay-off of hard-work and determination, and this is a valuable lesson to be had!
Lesson Plans/Reading Activities: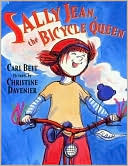 Best, Cari.
Sally Jean, the Bicycle Queen.
2006.
Farrar, Straus & Giroux.
Guided Reading Level: P
During times when money is tough and summer is nearing, this is definitely a book that families should share with children. Perhaps, it could even be turned into a summer-long project for kids (it has the potential to keep kids busy and keep Mom and Dad's pockets happy)!
The story follows Sally Jean from age one, when she's sharing a bike with her mother, through age 8, when she outgrows her own bike and so desperately wants a new one. However, money is scarce in the family... Dad needs new glasses and Mom is still trying to figure out how to pay the dentist bill. A new bike for Sally Jean is the last thing the family can afford. Disappointed, but not brought down, Sally Jean sets to work to find her own way to raise money for the new bike. However, as the story progresses, Sally Jean must settle, realizing she can't buy a new bike. Instead, Sally Jean asks the neighbors to recycle. In doing so, she's able to collect enough spare parts to put together a bike of her own - one that she's more proud of than she would be if she had just bought the bike because she realizes how much hard work and effort went into her bike.
If the kids are lacking a bike this summer, why not encourage them to try and build a bike of their own (with guidance of course) rather than just rushing out to the store to pick up a brand new one?
Lesson Plans/Reading Activities:

Say, Allen.
The Bicycle Man.
1989.
Houghton Mifflin Harcourt.
Guided Reading Level: O
This book is definitely worth of a spot on the book shelves. Not only does it provide insight into Allen Say's own childhood, it also provides readers with a great deal of information about Japanese history - the feelings that Japanese expressed when occupied by American troops - the Japanese holiday Taiiku no hi (Sports Day) - and some brief geographical information about Japan during that time period.
In a small village in American-occupied Japan at the end of WWII, two American soldiers provide a group of school children with a few bicycle tricks as a culmination of the school's sports day activities. The children were at first hesitant of the American troops, but quickly realize they were there on good terms, as the bicycle tricks do their part in providing entertainment.
This book serves many purposes and I am definitely recommending it to you!
Lesson Plans/Guided Reading Levels: