Sponsored by White Castle, the original fast-food hamburger chain, fouinded in 1921, to pay tribute to one of America's favorite foods. With or without condiments, on or off a bun or bread, hamburgers have grown in popularity since the early 1920's and are now an American meal mainstay.

Aylesworth, Jim.
The Burger and the Hot Dog.
2001.
Atheneum Books for Young Readers.
Guided Reading Level: N
If you have kids who are hesitant to read or even participate in poetry activities, this is definitely the book for you! I didn't realize it when I ordered it from the library, but this is a poetry book about what else, but food! Kids are sure to love it... I even loved it and I'm not a
huge
poetry fan myself! I've decided to share with you one poem from the book,
The Burger and the Hot Dog
. If you love it and want to share it with kids, simply click the book jacket provided and you'll head right to Amazon!
A burger and a hot dog
One day had a nasty spat.
The burger got insulted
'Cause the hot dog called him flat.

THe burger started crying;
His feelings were all hurt.
So he ran and shoved the hot dog,
Who fell facedown in the dirt.

THe hot dog, too, got angry,
And he started talking tough.
Soon both of them were yelling,
And they started throwing stuff.

The soda, who was watching,
Said, "You're both the guilty ones,
And if you do not stop it,
I will kick you in the buns!"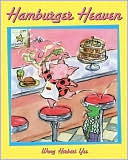 Yee, Wong Herbert.
Hamburger Heaven.
1999.
Houghton Mifflin Company.
Guided Reading Level: K
Pinky the Pig is working at Hamburger Heaven to try and earn some money for a new clarinet. But, since business is lacking, Pinky's last day looms nearer. She's determined to draw more customers to Hamburger Heaven so that she doesn't lose her job. In doing so, she questions everyone she can think of about their favorite burger and at last creates a new menu for Hamburger Heaven. The menu is distributed for a full week and then on Friday night, with customers lined down the street, Pinky presents the menu to Chef Rhino, who, upon seeing the line, sends her packing... for all the new ingredients they'll need to prepare the new burgers!
Porcupine's burger is served on pine needles.
Possum's order comes crawling with beetles.
Mole's is prepared with worms lightly fried.
Aardvark's burger has termites inside.
Burger on acorn; slurp up some slugs;
Burger Deluxe has three kinds of bugs.

Hedgehog loves her Snailburger Supreme.
Skunk thinks the Stinkbug Burger's a dream.
Fro's Cricketburger comes out a-chirping.
"B-R-RAAP!" goes Beaver. "Pardon my burping."

Burger on pine cones, frosted with ants;
Burger cocooned in tropical plants.
Customers leave with crumbs on their faces.
Others scurry to fill empty places.

By six 0'clock most have eaten their fill.
A line quickly forms for paying the bill.

"Chef, your burgers are totally awesome!"
Declare Porcupine, Beaver and Possum.
Kids are sure to find this book "totally awesome"!

Durant, Alan.
Burger Boy.
2005.
Clarion Books.
Do you have a picky eater at home? Have you ever had to threaten a child with, "You'll turn into a ... one day" because they will only eat the same thing, day in and day out? If so (0r even if you're just looking for a chuckle or a book to share during National Hamburger Month), this is definitely one to pick up! You might just convince the kids that they need to branch out and try some other foods!
Benny loves hamburgers. In fact, he not only loves hamburgers, he hates the majority of all other foods. His mom continually warns him,
If you don't watch out, you'll turn into a burger one day.
Benny doesn't believe his mother though, and continues to chow down the hamburgers... and sure enough, one day after lunch at Bigga Burgers, Benny slowly transforms into a burger! That's only the beginning of the adventure though! A whole slew of creatures chase Benny down before he eventually winds up on display at Bigga Burgers. When his mother finally meets up with him, she insists he eat fruit and vegetables. After some time, his body returns to its boyish, pre-burger figure and Benny swears,
I'll never eat another burger.
Now, for the good news!!! In honor of National Hamburger Month, I have a copy of
Hamburger Heaven
, by Wong Herbert Yee to pass along to one lucky reader! All you have to do is leave a comment on this post... share with me:
1)
What is your favorite place to pick up a burger?,
2)
What is the special "name" of your burger (ex: Barge Burger - half pound burger cooked your way, served with Swiss cheese and sauteed mushrooms) and a description of it (if there is one, if not skip to requirement 3!) and
3)
how do you top off your burger (ex: ketchup, mustard, bacon, avocado, ranch dressing, etc.)?
You have until midnight EST on May 15th to enter the drawing. Make sure you leave your name
and
an email address so I am able to contact you!
If you're interested in finding out more information about any of the books reviewed or if you'd like to purchase the books, click the cover image for a link to Amazon.com.