I've had both of these books sitting around for some time now, waiting for a non-fiction Monday review... however, they've all passed me by until today!
Woods, Michael and Mary B.
Seven Natural Wonders of North America.
2009.
Lerner Publishing, Inc.
This book is a great resource for middle-grade children doing research projects about one of the Seven Natural Wonders of North America of for teachers of youngers students to use as a read aloud when focusing on one of the seven natural wonders.
There is much to be learned about each of the Seven Natural Wonders of North America:
Dinosaur Provincial Park in Alberta, Canada


Readers find out about:


ancient reptiles
dinosaur boneyard
sedimentary rock where bones are encased
paleontologists finds
preserving this natural wonder
what a visit to Dinosaur Provincial Park might consist of


The Grand Canyon in Arizona


It's gorgeous to see and almost as fun to learn about:


What makes the Grand Canyon Grand?
How was the Canyon carved?
The Canyon is a "storybook" of the Earth's history
Various groups who have resided in the Canyon
Worries about this natural wonder
What/How to explore during a visit to Grand Canyon National Park


Niagara Falls in Ontario, Canada and New York


Also known as the "Honeymoon Capital," readers of all ages will enjoy discovering Niagara Falls:


learn about the natural history - dating back to the Ice Age
the importance of location in its popularity (only 2 1/2 hours from me!)
tightrope walking and barrel dropping stunts
the source of power that the falls provide
positive/negative of the falls
visitors attractions/activities


Pacific Rim National Park in British Columbia, Canada


Readers can learn about:


dangers faced by ships trying to cross the rim
rescue and hiking trails built by the government
the rain forest located within the park, as well as lakes, rivers, beaches, forests, meadows, mountains and valleys
the Broken Group Islands, a part of the park
what is/can be done to preserve Pacific Rim National Park


Paricutin Volcano in Michoacan, Mexico


Learning about Volcanos:


What happens when a volcano erupts?
Destruction caused by volcanos
Volcanos as a tourist attraction
What makes a volcano erupt?
What is Volcano Country?
Settlers in/around Paricutin

Redwood Forests in Oregon and Northern California


Children will love learning about:


the age of redwood trees
the ability of redwood trees to withstand very high winds
the home for plants and animals within these trees
the various uses of wood provided by the redwood trees
what is being done to protect the Redwood Forests


*** Couple this section of the book with Jason Chin's Redwoods for a well-rounded lesson on the Redwood Forest!


Yellowstone National Park in Wyoming, Montana, and Idaho


Exploring Yellowstone (through literature):


Where did the name "Yellowstone" come from?
Wonders within this Natural Wonder - Old Faithful, Giant, Giantess
Wildlife located within the Park

Protecting this tourist attraction

As you can see, there's a great deal that children will learn when browsing this book. It's not only great for children though... if you're a traveler, why not try and visit all of the Seven Natural Wonders of North America and create a scrapbook of your travels? Heck, this book even encourages readers to "Choose an Eighth Wonder" after reading and/or visiting the first seven!
Now that you've read about the seven natural wonders of North America, do a little research to choose an eighth wonder. You may enjoy working with a friend.

To do your research, look at some of the websites and books listed on pages 76 and 77. Look for places in North America that:


are especially large
are exceptionally beautiful
were unknown to foreigners for many centuries
are unlike any other place on earth

You might even try gathering phots and writing your own chapter on the eighth wonder!
How cool of a project would that be for older children, perhaps in the 4th-12th grades?!?!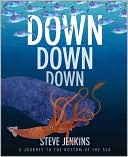 Jenkins, Steve.
Down, Down, Down: A Journey to the Bottom of the Sea.
2009.
Houghton Mifflin Harcourt.
Steve Jenkins does not disappoint in his latest non-fiction children's work! Readers are given a brief introduction about the ocean before setting sail on a virtual submarine of sorts, exploring the ocean to its greatest depths, The Marianas Trench, located 35,838 feet below the surface.
Oceans cover more than two-thirds of the globe's surface and well over half the planet lies beneath water more than a mile (1 1/2 kilometers) deep. We have explored only a small fraction of the oceans. In fact, more humans have walked on the moon than have visited the deepest spot in the sea.
This book is perfect for any child who loves the ocean and sea-life. It is very factual and will provide children with the chance to test your knowledge of ocean life!
If you're interested in finding out more information about any of the books reviewed or if you'd like to purchase the books, click the cover image for a link to Amazon.com.