Curious Wednesday!

Who's curious about Curious George?!?!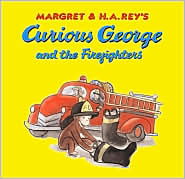 Rey, Margret and H.A.
Curious George and the Firefighters.
2009 (2004).
Houghton Mifflin Company.
Guided Reading Level: J
Summary from Barnes & Noble:
George and the man with the yellow hat take a trip to the firehouse where George finds all sorts of new things to explore. When one curious monkey meets a company of unsuspecting firefighters, a big adventure is sure to follow.
This is an oldie that's been reprinted! I still have a huge collection of Curious George books from when I was a child and still, to this day, share them with children. The trip to the firestation that Curious George and the man with the Yellow Hat take make this book perfect for a read-aloud before a classroom visit to the local firestation. It will allow readers the opportunity to learn about the things they will see and experience on such a field trip! The book would also make a great read-aloud if children are learning about different career fields as a part of Career Day!
Rey, Margaret and H.A.
Curious Baby: Counting (Curious George).
2009.
Houghton Mifflin Company.
Summary from Barnes & Noble:
Babies will enjoy learning to recognize the adorable farm animals in this board book with wooden beads. Five beads embedded into the book function as a rattle and later as a tool for helping readers count the farm animals along with George. Beautiful patterns and a reasonable price help make this an ideal choice for gift baskets.
I love this new Curious George series! Not only are the books perfect for babies, but they also have the appeal that will allow children to become "hooked" on Curious George for years to come. The very basic concepts are perfect for babies and these will likely appear in future baby gifts that I pass out!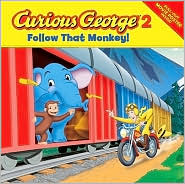 Malamud, Rachel.
Curious George 2: Follow that Monkey.
2010.
Houghton Mifflin Company.
Summary from Barnes & Noble:

One of the most memorable and charismatic characters in children's literature, Curious George was the creation of the talented husband-and-wife team H. A. and Margret Rey, who fled Nazi Germany for America. Their lovable monkey (and his mischievous exploits) have entertained several generations of readers.
I was not familiar with this new "Curious George 2" series... after reading, I've come to the conclusion that the 2 must come from the television series? Anyone have any ideas about this? The story itself was cute, but the animated-style illustrations left me longing for the tradition H.A. Rey-type Curious George works... to me, it just wasn't the same. However, children may like these more because of the added color that catches the eye...
Rey, H.A.
Curious George Learns the Alphabet.
2009.
Houghton Mifflin Company.
Guided Reading Level: N
Summary from Barnes & Noble:

Readers learn the alphabet along with George as the man in the yellow hat teaches the curious monkey how to read.
The difference between the edition pictured and the edition that I received in the mail is the cassette tape. The volume released in earlier this summer in June comes with a CD recording of the book, with and without page turning prompts. I love books with cassettes and/or CDs because they allow more freedom to children who have not quite mastered reading, allowing them a sense of independence and freedom for their reading pleasures. This book not only would be great for teaching children the alphabet, but also beginning sounds, and, with older children nouns vs. proper nouns, as each letter is taught as both capital and lower case. However, not all of the capital letters should really be depicted with a capital, as they are not necessarily propper nouns! Over all though, I'm definitely glad to be adding this to my Curious George library!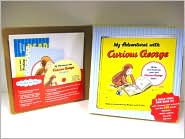 Rey, H.A.
My Adventures with Curious George: A Build-Your-Own-Book Kit.
2009.
Houghton Mifflin Company.
Summary from Barnes & Noble:

Children will have fun being author and illustrator as they join Curious George to create their very own adventure! Younger kids can use storyline stickers to get their imaginations rolling, while older children may prefer to use headline stickers or create their own themes.
The boxed activity kit includes:
* A hardcover, jacketed book...with die-cut to include your photo
* Over 200 stickers
* A CD of 200 images of Curious George artwork children can print
* Bookmarks and bookplates
* Fill-in About the Author pages
* A Writer's Notebook
* Customizable life-the-flaps
* A note to parents
This book would be perfect for children who are Curious George fans! This would allow children to see that writing can be fun - they can build a Curious George adventure of their own! I love the concept... it's a book in itself that allows children the opportunity to use their imagination and see where their dreams are capable of taking them! A must have for Curious George fans!
If you're interested in finding out more information about any of the books reviewed or if you'd like to purchase the books, click the cover image for a link to Amazon.com.