National Rabbit Week is celebrated from July 15-21 to pay tribute to the rabbit for being a great companion to humans as a house pet. Recognition should also be given to any rabbit that has done something special to help mankind (e.g. saved someone's life, visited patients at a hospital, etc). The public should be informed during this week on the proper care of rabbits and the problems with buying an "Easter" rabbit.
-
The Teacher's Calendar, 2008-2009
Without further ado, here is some rabbit literature to share with the kiddos!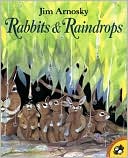 Arnosky, Jim.
Rabbits & Raindrops.
1997.
G.P. Putnam's Sons
Summary from Barnes & Noble:

It's the first day outside the nest for Mother rabbit's five babies, and all sorts of new creatures and adventures await them. But when a sudden rain shower sends the rabbits scurrying for shelter under the hedge, the other wild animals come to visit them! Jim Arnosky's graceful watercolors and simple text are sure to delight children experiencing nature's wonders for the first time.
This book would be most suitable for younger children, as the text and story line is simple... but a sweet bedtime or story time story it is! It shows just how protective and caring a mother is of her young! I would think this would make a nice gift for a new mom or baby!

Freedman, Claire.
Oops-a-Daisy!
2004.
Tiger Tales.
Summary from Barnes & Noble:
As little Daisy Rabbit struggles to learn how to hop, her mother points out other baby animals having trouble with their lessons until Daisy realizes that everyone needs practice when trying something new.
Oooh, this could quickly be added to my list possible favorite children's books! It's an adorable tale... and one that's likely to have a huge impact on children who are frustrated and fed up with having trouble doing something they so desperately want to succeed at! It definitely shows two phrases I'm sure we all know so well, "Practice makes perfect," and "If at first you don't succeed, try... try again." This is 100% worth sharing with children... of any age!
Dunbar, Joyce.
The Spring Rabbit.
1994.
Lothrop, Lee & Shepard.
Summary from Barnes & Noble:
Smudge is the only rabbit in the woods without a brother or sister. His mother tells him to wait for spring, but that is a long way off. In the fall, Smudge builds a leaf-and-twig brother, but he blows away. He builds a snow sister in the winter, but she melts. Will Smudge's wish for a sibling ever come true?
This book would be wonderful to share with only children who are antsy and pestering parents about a baby brother or sister! It would also make for a great read in the spring, as we notice many different events occurring that typically happen in the springtime. It would even serve well as a bedtime story - I know I would have loved it as a child!
If you're interested in finding out more information about any of the books reviewed or if you'd like to purchase the books, click the cover image for a link to Amazon.com.