Happy 4th of July everyone! Have a fun, safe weekend -
and share some holiday literature with the children!

Kimmelman, Leslie.
Happy 4th of July, Jenny Sweeney!
2003.
Albert Whitman & Company.
Jenny Sweeney's entire neighborhood is busy preparing for a 4th of July celebrations. Flags have been hung. Festive clothing has been pulled from the dresser drawers to wear! A new family is celebrating after they officially become American citizens. Baton twirling practice. Men getting dressed in their uniforms, the mayor writing a speech. A family barbecue. Even a parade and fireworks!
This book is patriotic in every sense of the word and 100% appropriate for sharing with children. The only thing I would have liked to see was a little emphasis on the true meaning of the 4th of July... why do we celebrate this day (even though we're pretty much all guilty of just enjoying the day for the 3 F's - family get-together, food and fireworks)!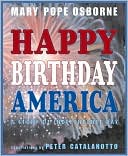 Osborne, Mary Pope.
Happy Birthday , America.
2003.
Roaring Brook Press.
Mary Pope Osborne is probably most well know for
The Magic Treehouse
series... however, she's written more than just that best-selling series, one of which includes
Happy Birthday America.
Three generations of one family, along with Bud (the dog), set out for the day to celebrate the Fourth of July. At the park they enjoy parades, popcorn, tap dancing, watching firemen fight water battles, barbecue, listening to the band perform "Yankee Doodle" and "Stars and Stripes Forever", catching fireflies and watching the fireworks.
My favorite part of the story was when the family, together, named the fireworks,
"There they go!"
"Oooooh!" "Ahhhh!" "Wow!"
"Like a palm tree!"
"Like tadpoles!"
"Like a weeping willow!"
"Look how pretty, Jess," says Grandpa,
his first words all day.

A moment of silence.
Then huge bursts of light,
one on top of the other,
and a million pieces of gold
rain down on the trees
near the flag that is still there.
My family always discusses what the fireworks remind us of, so that was my personal connection to this text! However, there's so much that this family experiences on the 4th of July, that you'll all be able to make some connection between the story and your own life! That definitely makes this book worthy of a readbut again, there's no description about the real reason that we celebrate the 4th of July...
Wong, Janet S.
Apple Pie 4th of July.
2002.
Harcourt Books.
A young Chinese-American girl is a bit upset with her parents... the family store is open three hundred sixty-four days a year (and three hundred sixty-five in a leap year)... a Chinese Restaurant... open on 4th of July? An American holiday? The little girl
knows
no one is going to want Chinese food on 4th of July in apple-pie America!
However, we quickly discover that everyone has different ways of celebrating - including eating Chinese food on this American holiday! They spend the entire day serving up chow-mein, sweet-and-sour pork, and egg rolls. When it's time to close, this Chinese-American family heads up to the rooftop, where they sit together, eat apple pie and watch the fireworks!
This is a cute story showing that even Chinese-Americans partake in the festivities of July 4th - in a truly American way! I think the children will enjoy it!
But wow... three books and not one makes mention of the real reasons for celebrating the 4th of July? I'm slightly shocked...
If you're interested in finding out more information about any of the books reviewed or if you'd like to purchase the books, click the cover image for a link to Amazon.com.