Happy Birthday to Patricia Polacco. Prior to having started this blog, I wasn't familiar with very many of her works... however, I've discovered just how much she has to offer, and she's quickly becoming one of my favorite authors!
Polacco, Patricia.
Just Plain Fancy.
1990.
Bantam Little Rooster Books.
Guided Reading Level: O
Summary from Barnes & Noble:
Naomi Vlecke lives with her farming family in an Amish community in Pennsylvania. The Amish first came to Pennsylvania in the early 1700s, and to this day preserve a religious and "plain" life-style. As part of her household chores, Naomi looks after the chickens with her little sister, Ruth. While her elders have impressed upon her the importance of adhering to the simple ways of her people, Naomi is horrified when one of her hen eggs hatches into an extremely fancy bird.
I have always been intrigued by the Amish... and to have a children's book of this proportion devoted to teaching children a small bit about the Amish lifestyle... well, let's just say everyone should read, if not own this book! I could see this book being used educationally in two ways...
Before a trip to an Amish country (Lancaster County, PA, Berlin or Holmes County, OH or many others) to educate the children on the different lifestyles they will be seeing.
As one book in a theme on many focused on cultural difference among children growing up within the United States.


Polacco, Patricia.
Thunder Cake.
1990.
Philomel Books.
Guided Reading Level: M
Summary from Barnes & Noble:
When the air gets heavy and dark clouds drift low over the fields of Grandma's farm, her frightened granddaughter hides under the bed. But Grandma insists that this is Thunder Cake baking weather and the two are soon scrambling to gather the ingredients to make the cake--and get it into the oven before the storm arrives.
This book would be perfect for the summer we're having so far, here in NY... lots of thunderstorms! What's cool about it is that is shows that by keeping busy, you can distract yourself from something you're afraid of! And... not only that, but you can actually make a Thunder Cake of your own after reading this, for the recipe is provided for readers at the end of the story! I'd say it's definitely worth a read!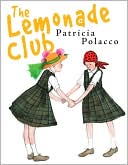 Polacco, Patricia.
The Lemonade Club.
2007.
Philomel Books.
Summary from Barnes & Noble:
Everyone loves Miss Wichelman's fifth-grade class-especially best friends Traci and Marilyn. That's where they learn that when life hands you lemons, make lemonade! They are having a great year until Traci begins to notice some changes in Marilyn. She's losing weight, and seems tired all the time. She has leukemia-and a tough road of chemotherapy ahead. It is not only Traci and Miss Wichelman who stand up for her, but in a surprising and unexpected turn, the whole fifth-grade class, who figures out a way to say we're with you. In true Polacco fashion, this book turns lemons into lemonade and celebrates amazing life itself.
This book is very moving... it tells the real story of Patricia's daughter Traci and her battle to overcome cancer. I would say the book is most appropriate for older children, 4th grade and up, as it touches on a very tender topic and from what I've seen, cancer seems to really scare and worry younger children. However, it's definitely worth the read... especially if one of the motto's you live by is "If life hands you lemons, make lemonade." That's exactly what the trio in this book does and it reminds me of my grandmother, as I quite often heard those exact words from her!
If you're interested in finding out more information about any of the books reviewed or if you'd like to purchase the books, click the cover image for a link to Amazon.com.