Father-Daughter Take a Walk day is held annually on July 7 as a special time in the summer for fathers and daughters of all ages to spend time together in the beautiful weather.
-
The Teacher's Calendar, 2008-2009
If for some unlucky reason, you're having a rainy week like I most likely am, rather than taking a walk, have your father-daughter team share a special book about fathers and daughters taking a walk. Here are a few suggestions for you!


Showers, Paul.
The Listening Walk.
1991 (1961).
HarperCollins Publishers.
Guided Reading Level: I
Summary from Barnes & Noble:
Put on your socks and shoes - and don't forget your ears! We're going on a listening walk.

Shhhhh

. Do not talk. Do not hurry. Get ready to fill your ears with a world of wonderful and surprising sounds.
Not only would this book be perfect for dad to share with his daughter on Father-Daughter take a walk day, this book is also perfect for teaching children about their sense of hearing. Check out the lesson plans below!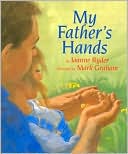 Ryder, Joanne.
My Father's Hands.
1994.
Morrow Junior Books.
Summary from Barnes & Noble:
A man working in his garden finds a delicate worm, a beetle in shining armor, and a leaf-green mantis and shares these treasures with his young daughter. "Lovely double-page, impressionistic oil paintings...provide a picturesque setting for this simple, straightforward description of a special parent/child outing."
This is a great book for dad and daughter to share as it shows just how much trust a young girls places in the palm of her father's hand! Plus, they're taking a walk of their own - through the backyard and garden! Definitely worth sharing!
If you're interested in finding out more information about any of the books reviewed or if you'd like to purchase the books, click the cover image for a link to Amazon.com.