National Day of the Cowboy is a day to pay homage to our cowboy and western heritage, as well as to honor working cowboys and cowgirls, rodeo athletes, western musicians, cowboy poets, western artists, ranchers and all others who continue to contribute to the cowboy and western culture in America today. The day is set for the fourth Saturday in July after being proclaimed by the US Senate in Resolution 138 for the first time on July 23, 2005. This year we celebrate National Day of the Cowboy on Saturday, June 25.
-The Teacher's Calendar, 2008-2009
The Dirty Cowboy.
2003.
Farrar, Strauss & Giroux.
Summary from Barnes & Noble:
After he finds a tumbleweed in his chaps and the numerous bugs buzzing around him affect his hearing, the cowboy decides it's time to head to the river. Once there, he peels off all his clothes and tells his trusty old dog to guard them against strangers. He takes a refreshing bath and emerges clean as corn – but so fresh-smelling that his dog doesn't recognize him! Negotiations over the return of the clothes prove fruitless. A wrestling match ensues in a tale that grows taller by the sentence, climaxing in a fabric-speckled dust devil.
This is a really funny story! Kids will love it! If you have children who are hesitant about bath time (at an older age) this would be a perfect story to read with them!
Teague, Mark.
How I Spent My Summer Vacation.
1997.
Random House Children's Books.
Guided Reading Level: I
Summary from Barnes & Noble:
Some kids spend their summer vacation at camp. Some kids spend it at Grandma's house. Wallace Bleff spent his out west...on a ride, a rope, and a roundup he'll never forget.
This book is really quite funny! Kids will love the tale to be told, and it's great that it's told as Bleff's point of view as a writing assignment about how he spent his summer vacation. Oh, what his class must think! It's definitely worth of a read!

Scieszka, Jon.
Cowboy and Octopus.
2007.
Penguin Group.
Summary from Barnes & Noble:

Peanut butter and jelly. Georg
e and Martha. Frog and Toad. Cowboy and . . . Octopus? Yes, that's right. Meet Cowboy and Octopus-the next great pair to become a household name. Cowboy likes beans'n'bacon and bacon'n'beans. Octopus eats raw seafood. Octopus prefers knock-knock jokes, but Cowboy doesn't get them. How will these two ever be friends?
I'm not quite sure what to make of this one... It's got some humor in it that was sort-of funny, but I'm not even sure kids would understand the humor... I think your best bet might be to pass this one by, or at least examine it for yourself first and then decide whether or not it's appropriate for you children.
And particularly for the girls!...
Silverman, Erica.
Cowgirl Kate and Cocoa: Rain or Shine.
2009.
Houghton Mifflin Company.
Guided Reading Level: J
Summary from Barnes & Noble:
In book four of this award-winning series, Cowgirl Kate and Cocoa gear up for lots more fun and a little stormy weather.
This is the first book I've read in the Cowgirl Kate and Cocoa series, but I'm sure it won't be the last! What's great about this series is that the books don't necessarily need to be read in the order that they were published. They work just fine as stand-alone titles, which is perfect for beginning readers who can't wait to get their hands on another book in the series and don't want to wait for the next one in order! This particular title allows readers to see that (as long as their parents give approval) there's fun to be had in rainy weather!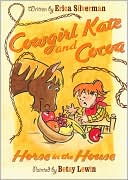 Silverman, Erica.
Cowgirl Kate and Cocoa: Horse in the House.
2009.
Houghton Mifflin Company.
Guided Reading Level: J
Summary from Barnes & Noble:
In this fifth book in the series, Cocoa nudges his way right into Cowgirl Kate's house. He pokes his head through every doorway and finally decides to live in the best stall of all--the kitchen. What's a cowgirl to do? Well, whether under one roof--or two--there's no doubt these buckaroos will be pals forever!

This is only the second book I've read from the series, but I'm definitely glad to have been able to add it to my collection! I love that is shows a less feminine side of little girls - girls need to be able to see that it's okay to enjoy the more masculine, boyish activities - such as acting as a cowgirl! What's more? They're sure to love the mischief Cocoa causes in Cowgirl Kate's house as he tries to find a stall better than his own!
If you're interested in finding out more information about any of the books reviewed or if you'd like to purchase the books, click the cover image for a link to Amazon.com.