Kids of today recognize Laura Joffe Numeroff due to her highly popular If You Take A Mouse... series. However, I don't think that the majority of children realize that she's authored many other books as well! So, in honor of her birthday today, I've picked 3 of her less popular books to share with you... in hopes that you'll share them with your children!

Numeroff, Laura.
Sherman Crunchley.
2003.
Dutton Children's Books.
Guided Reading Level: L
Summary from Barnes & Noble:
Sherman Crunchley is Biscuit City's nicest police officer, but that's just the problem. He's too nice! Sherman comes from a long line of police chiefs, but it's hard to be a great police officer when you're the kind of guy who can't say no. Can Sherman find the courage to tell his father he doesn't want to be the next chief of police? Beautifully illustrated and filled with canine capers, this silly story barks out a serious message—being true to oneself.
This was a really cute book! Sherman was conflicted about how to break the news to his father about his not wanting to be a police officer, but didn't know the best way to do so without hurting his father's feelings... however, when Sherman finally worked up the nerve, he learned just how accepting his parents really are of him - like all parents should, they wish only for his happiness and are not disappointed in the least about his choice of career. The book does a great job showing children what acceptance truly is and will likely encourage children to be forth-coming with their parents about their feelings on difficult matters.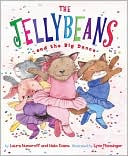 Numeroff, Laura.
The Jellybeans and the Big Dance.
2008.
Abrams Books for Young Readers.
Summary from Barnes & Noble:
Just as jellybeans are different colors and flavors, each character in this heartwarming friendship story has a personality and pizzazz that young readers will love.

Emily loves to dance and can't wait to meet the other girls in her class, who are sure to be just like her. But instead she meets Nicole, a tomboy who would rather be playing soccer; Bitsy, who loves arts and crafts; and Anna, a shy bookworm who has no interest at all in dancing. Realizing that they have to work together to make their dance recital a success, the girls learn to love each other's differences and strengths as they band together and name their group the Jellybeans!
The message shared in this story is very important (I think)! Diversity is something that children need to have an understanding and acceptance of. The concept of teaching this through such as story, with different colored jellybeans will certainly appeal to children, as children will easily recognize that
Jellybeans are all different flavors, but they still go well together.
Even though children are all different, they all have something to contribute and if they focus on that, they'll realize that they can find a way to work together! This is definitely worth sharing - I think it'd be great for a read-aloud at the beginning of the school year to show children the importance of acceptance and working together!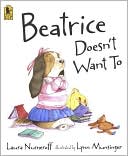 Numeroff, Laura.
Beatrice Doesn't Want To.
2004.
Candlewick Press.
Guided Reading Level: J
Summary from Barnes & Noble:
Beatrice doesn't like books, and she doesn't like tagging along with her brother to the library. She doesn't want to get books from the shelf. She doesn't want to let Henry work. And she certainly doesn't want to sit in a room full of kids during story hour. Is there anything that could possibly change her mind?
I've always been a big believer that the best way to get children to love reading is to help them pick out books that focus on their personal interests -
Beatrice Doesn't Want To
proves that this theory is well-rounded! I guess this is just the book for me - especially to pass along to parents who are struggling to get their children reading!
If you're interested in finding out more information about any of the books reviewed or if you'd like to purchase the books, click the cover image for a link to Amazon.com.