Teach children about history using characters they can relate to and enjoy!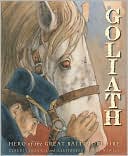 Friddell, Claudia.
Goliath: Hero of the Great Baltimore Fire.
May 2010.
Sleeping Bear Press.
Review copy provided courtesy of publisher.
Brought to life for children to learn about in a unique way, Goliath: Hero of the Great Baltimore Fire, shares details about the Great Baltimore Fire of 1904 and the hero - a participant children are likely not to even deem a hero of such proportions - Goliath, a massive (0ne-ton) fire horse, who led Engine Company 15 and the Hale Water Tower No. 1 into the blaze, eventually becoming known as a lifesaver, as he worked tirelessly to pull the driver, Eugene Short to safety as bricks from a six-story warehouse began to rain down upon them! Despite being burned himself, Goliath proved dedicated to his work and ultimately saved the life of Eugene Short.
This was a very interesting read for me - it wasn't a piece of history that I was at all familiar with, yet it captured my attention, as I find it neat to hear about the different ways situations were handled. Sure, you heard of how horses pulled the fire equipment, but you never really make a connection to just how involved the horses actually became in helping to fight the fires.
Learning/Reading Activity:
Sleeping Bear Press has provided a Teacher's Guide to use in collaboration with this story! You can check that out here. I think my favorite activity in the packet would be the "Extra! Extra! Read All About It!," found on page 3, in which children (grades 3-6 perhaps) are asked to create a 1904 Baltimore Newspaper after reading the story and then possibly completing some addition research about the fire.


If you're interested in finding out more information about any of the books reviewed or if you'd like to purchase the books, click the cover image for a link to Amazon.com. I am an Amazon Affiliate, so any purchases you make after clicking these images will result in my receiving a small percentage of the sale price!