A favorite show on PBS Kids come to life in book format!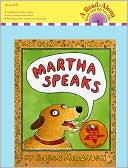 Meddaugh, Susan.
Martha Speaks.
June 2010.
Houghton Mifflin Harcourt.
Review copy provided courtesy of publisher.
Helen's family has adopted a new dog, Martha, from the shelter. On her first night at home, Helen feeds Martha a bowl of alphabet soup. Who knew a bowl of soup could change one family's life forever? The soup, rather than going to Martha's stomach, has instead gone to her brain, resulting in a dog that now speaks, yes, that's right - speaks to her family and others! The family eventually gets fed up with all of Martha's talking and beg her to shut up... she does, until one day a burglar enters the family house and Martha becomes the hero. After that day, everyone in her family is more than thankful for her ability to talk, as that's what allowed her to communicate with police officers when she dialed 911.
Children will absolutely love the notion of a speaking dog! Prior to reading this, I was not at all familiar with Martha or the Martha Speaks series. Let me just say, I think I'm in love with the idea of Martha! This book is so fun and there are so many additional titles, making this a series kids will enjoy for a long time coming! Definitely worth reading and sharing with your child(ren)!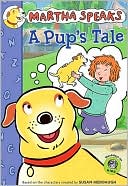 White, Jamie.
Based on characters created by Susan Meddaugh.
Martha Speaks: A Pup's Tale.
July 2010.
Houghton Mifflin Harcourt.
Review copy provided courtesy of publisher.
Martha and her owner Helen take readers on a whole slew of adventures in the Martha Speaks series. In Martha Speaks: A Pup's Tale, in her own words, Martha shares the story of how her days spent as a doggy criminal after being adopted by a thief and her accomplice resulted in mishaps and mayhem and eventually finding Martha in police custody and being returned to the shelter from which she was stolen. Once returned to the shelter, Martha is adopted by Helen and the two set out helping each other through life's lessons and an entirely new set of adventures.
Children will love following the lives of Martha (the speaking dog) and her owner, Helen! The concept of a dog that speaks will have little ones excited and engaged, wondering what each new adventure will bring. While the series tends to be geared toward children as young as age six, the youngest ones will definitely need assistance in reading this title, as it is quite lengthy for a six or seven year old (91 pages). However, it would make for a wonderful bedtime story, and sharing a character who is the center of numerous titles, will excite your child about the thought of reading and encourage them to continue! Definitely a wonderful book, but you'll want to read the very first (original) book in the series first, in order to be sure you have the foundation of Martha's special talents!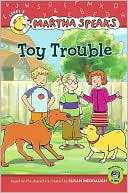 Barss, Karen.
Based on characters created by Susan Meddaugh.
Martha Speaks: Toy Trouble.
July 2010.
Houghton Mifflin Harcourt.
Review copy provided courtesy of publisher.
In this latest edition of Martha Speaks, Martha and her friend Skits get a lesson in sharing and being good friends! When TD brings home a new toy, Martha and Skits, both immediately run after it. Rather than opting to play together (perhaps playing tug of war), Skits hogs the toy, upsetting Martha. When Helen suggests that the two share the toy and the two continue to not share, Helen takes the toy away, insisting that the two of them find a way to play nicely together. After Helen insists they watch a movie about sharing, the pair invent a new game, Steal the Squirrel, that allows them each to "hog" the toy while the other tries to "steal" it.
While dog play certainly looks more like fighting to people, Martha and Skits have it all figured out - as long as they're both in agreement on how they will play (and are being safe), it's okay to make up your own games! Children should be able to see the importance of cooperating and playing together after reading this one!
Learning/Reading Activity:
Feed Martha a bowl of Alphabet Soup! Have your child "feed" Martha the alphabet soup by gluing alphabet pasta into her bowl. Then, have your child select a question from the list found that can be downloaded here. Once your child has selected a question and fed Martha her soup, have your child imagine the response that Martha would give to answer the particular question chosen. Have him/her write (or tell you and you write) the response in the text bubble on the Martha Speaks worksheet, found here!
HOW TO ENTER THE GIVEAWAY:
Complete the suggested activity with your child (it isn't even necessary to read Martha Speaks first, this can be a fun activity in itself).

In a comment on this post,

share with me the question your child chose to answer and the answer he/she shared on behalf of Martha

.

Be sure to

leave an email address

along with your comment.
Deadline to enter is

Saturday

, August 14th at 11:59PM EST

.

For an extra entry (or three)

:
1. Become a subscriber/follower of my blog (+1)
2. Blog about this giveaway on your own blog and leave a link in your comment (+1)
3. Leave a tweet on your Twitter page and then leave a link in your comment (+1)
Contest is open to

U.S. Residents

only, sorry for any inconveniences!
Winner will be selected on

Wednesday

, August 18th

and will receive a complimentary copy of

Martha Speaks (with CD), Martha Speaks: A Pup's Tale

and

Martha Speaks: Toy Trouble

!


If you're interested in finding out more information about any of the books reviewed or if you'd like to purchase the books, click the cover image for a link to Amazon.com. I am an Amazon Affiliate, so any purchases you make after clicking these images will result in my receiving a small percentage of the sale price!