Books are full of interesting characters and adventures, just waiting for you to enjoy them!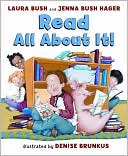 Bush, Laura and Jenna Bush Hager.
Read All About It!
June 2010.
HarperCollins.
Review copy provided courtesy of publisher.
Tyrone Brown rules the school as a professional student and class clown. However, Tyrone does not like reading. He prefers doing activities that include lots of physical movement - things that are real (playing catch, playing on the monkey bars, pulling weeds, etc). As Tyrone goes about his school day, he can usually find something to enjoy, except during the library time and story hour. While all the other students are paying attention and engaged in the stories, Tyrone is busy making a spaceship from paper, but even that doesn't even distract his friends from the book - and it's then that Tyrone decides maybe there was a reason to listen! As Tyrone begins to listen and pay attention, he finds the characters starting to come appear! As more and more stories are read and more and more characters appear, Tyrone quickly sees that what Miss Libro said really is true,
You never know who you are going to meet when you look in a book!



Books are full of adventure and (in many cases) inspiring characters. It is very true that you never know who you are going to meet when you look in a book. That's the message shared throughout the duration of this story, as Laura Bush and her daughter, Jenna Bush Hager team up to inspire reading in children. Characters have always been my favorite element of reading/writing, as characters come alive when you are able to connect with them. If I'm not able to connect with a character, forget it! However, this book shows children that when connect with all sorts of characters, reading really can be fun and worthwhile! Definitely a wonderful book!
Reading/Learning Activities:
Visit www.readallaboutit.com for tips, activities and resources on how to get your kids reading.
Have your child use the "Who am I?" worksheet to create a character of his/her own. After answering all of the questions, have your child use pieces from a magazine to piece together this character. Then, using the character and picture, have your child take that character on an adventure by writing out what they'd like to have that character experience!



If you're interested in finding out more information about any of the books reviewed or if you'd like to purchase the books, click the cover image for a link to Amazon.com. I am an Amazon Affiliate, so any purchases you make after clicking these images will result in my receiving a small percentage of the sale price!