How do animals prepare for a hurricane?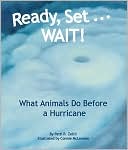 Zelch, Patti R.
Ready, Set... Wait!: What Animals Do Before a Hurricane.
August 2010.
Sylvan Dell Publishing.
Review copy provided courtesy of publisher.
As coastal families prepare for the upcoming hurricane season and an impending storm, gathering food and water; testing flashlights, batteries and radios; and closing shutters, one little boy wonders what animals do to prepare for a hurricane. Author, Patti R. Zelch doesn't hold back from sharing that information with readers! From schools of fish to rabbits and mice, readers will learn that animal instincts set in, allowing animals ample opportunity to take shelter and prepare for the hurricanes themselves!
This is a wonderful book - so often we hear about human preparations to ready ourselves in the event of a hurricane. It's very seldom that we learn about how other members of our ecosystems are impacted and how they handle similar situations! I really enjoyed reading this title. The story and text were simple, and one important thought was reiterated throughout, "They know!" Definitely a great story to read during hurricane season!
Learning/Reading Activity:
To coincide with the book, Sylvan Dell Publishing has provided a 50-page teaching activity guide for teachers, available on their website, found here. My personal favorite activity can be found on pages 25-32, in which children are being asked to come up with a hypothesis for a given theory regarding what the different animals do to prepare for an upcoming hurricane, come up with a plan on how to test the hypothesis, a list of materials needed, and to imagine setbacks they might face. This is a great activity to get children thinking scientifically!



If you're interested in finding out more information about any of the books reviewed or if you'd like to purchase the books, click the cover image for a link to Amazon.com. I am an Amazon Affiliate, so any purchases you make after clicking these images will result in my receiving a small percentage of the sale price!