How communities come together for a united cause...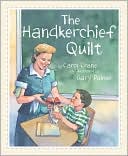 Crane, Carol.
The Handkerchief Quilt.
May 2010.
Sleeping Bear Press.
Review copy provided courtesy of publisher.
In
The Handkerchief Quilt
, Carol Crane shares with readers a fictional account of true event from her own family's history - a flood in the school where her mother was a teacher. An early winter storm during Thanksgiving vacation results in furnace going out and pipes bursting, culminating with a flood of the school, which caused a great deal of damage, ruining hundreds of books and papers that were used by the students. To help raise money for new books, Miss Anderson, the teacher, takes all of the handkerchiefs given to her by students to use for a quilting project that would ultimately raise money to help replace books. Students and their families work tirelessly to construct the quilt and their work pays off, as the quilt is finally finished and sold, allowing the school to begin the task of replacing library books and paper for the students. To show their gratefulness towards Miss Anderson, they even plan a surprise for her!
The story, fictional, while based on true events, is perfect for children to begin grasping the idea that communities can pull together in times of need to come out on top and reach a common goal. The ways in which the story are told make it very child friendly and interesting to learn about! I think this book would be an inspirational story when trying to introduce and involve children in a community service project in your community!
Learning/Reading Activity:
Sleeping Bear Press has kindly put together a Teacher's Guide to use in collaboration with

The Handkerchief Quilt

. My personal favorite activities asked students to write a newspaper article on one of three topics that were a focus of the book (page 4), the recipe that allowed students (and an adult) to create cathedral glass window cookies (page 5) and the "How Would You Feel..." activity (page 15).



If you're interested in finding out more information about any of the books reviewed or if you'd like to purchase the books, click the cover image for a link to Amazon.com. I am an Amazon Affiliate, so any purchases you make after clicking these images will result in my receiving a small percentage of the sale price!