Children's author, poet and folklorist Judy Sierra is celebrating her 64th Birthday today! I am most familiar with her books
Born to Read
and
Wild About Books
, so I opted to go with some books I wasn't familiar with for this post!
Sierra, Judy.
Counting Crocodiles.
1997.
Harcourt Brace & Company.
A clever monkey who only has sour lemons to eat sets to work on outsmarting a family of crocodiles in order to make it across the Sillabobble Sea in order to claim a stack of bananas from the banana tree on a nearby island. The crocodiles, who plan to enjoy Monkey for lunch later in the day, convince her to count them to see how many are in their family. As she begins to count the crocodiles, we notice Monkey is also pouncing along them, as they're lined up in perfect formation to lead her to that banana tree!
She counted one crocodile with a great big smile,
Two crocs resting on rocks,
Three crocs rocking in a box,
Four crocs building with blocks,
Five crocs tickling a fox,
Six crocs with pink mohawks,
Seven crocs juggling clocks,
Eight crocs in polka-dot socks,
Nine crocs with chicken pox,
And ten crocs dressed like Goldilocks.
Monkey has counted all of the crocodiles in the formation and has landed herself a bunch of bananas. The crocodiles soon become impatient, wanting to know just how many of them there are and demand Monkey to tell them. However, Monkey realizes she's got to get back to her own island with the sour lemon tree, so she scolds the crocodiles,
Mind your manners!
Line up now, crocodiles!
I need to count you

one more time

.
And the countdown from 10 continues and Monkey begins the trip back... Before the crocodiles have time to react to her cleverness, Monkey hurries back up her lemon tree to safety.
"How many, then, are we?
Tell us NOW!" The crocs all howled.
"Just enough..." The monkey scowled.
"Just enough to make bridge across the Sillabobble Sea,
but not enough to catch a clever monkey like me!"
This is a really cute book and would be perfect for children who are learning to count to 10 and the back down! The book also has lots of rhyming phrases that can be introduced with younger children! I also created a one-to-one correspondence worksheet with crocodiles and the numbers 1-10. There's also a challenge question at the bottom for children to test out... depending on their math skills, they may or may not be able to complete the addition question about Monkey's dinner! The worksheet can be downloaded
here
.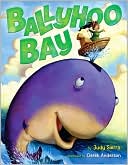 Sierra, Judy.
Ballyhoo Bay.
2009.
Simon & Schuster Books for Young Readers.
Mira Bella is a young artist who teaches etching, sketching, sculpture, collages, painting, clay-work, mobiles, pencil self-portraits, tie-dying t-shirts to the residents of Ballyhoo Bay, an ocean community consisting of clams, seagulls, swordfish, squids, pelicans, crabs, seals, otters, sea squirts... even grannies and kids! However, as the day before Mira Bella's Ballyhoo Art Fair, barbed wire appears on the sandy beach, announcing a plan that means the end of Mira Bella's art lessons unless she and the animals can come up with a plan to avoid the penthouse apartments that developers are planning on building.
Together, this seaside community pulls together and comes up wtih Plan B to save Ballyhoo Bay and ultimately allow the Art Fair to go on! I
really, really, really
love this story! In fact, I had so much fun reading it and brainstorming a companion worksheet, that I've decided to make this book be the basis for my literacy work station this week... that means, a whole variety of activities will be following this post later in the week, probably on Wednesday or Thursday, so
be sure
to check back for that!
Judy Sierra Lesson Plans/Reading Activities: