Happy Birthday to Charlotte Zolotow!!!


Zolotow, Charlotte.
If You Listen.
1980.
Harper & Row, Publishers.
A small girl, missing her father, questions her mother about how to know someone loves you when they're not there with you. Her mother tries to explain to her all the little things that take place in the day that make you realize that even though someone isn't present, they're watching over you in other ways.
"Or," her mother went on, "it's like
staring at the mountains
on a hot summer day and nothing is moving, not a leaf or a bird or a blade of grass,
when suddenly a flash of lightening
streaks across the sky
and you hear the thunder behind it
coming close.
I think this book would be perfect for children who have family members who they don't see frequently enough - parents who are deployed in the military, or parents whose work takes them away from their children for extended periods of time. Despite it's near 30 year in print, this book could act as if it were published for the first time today, ensuring that it will be appropriate to share with children for years to come without fear of being outdated!

Zolotow, Charlotte.
The Seashore Book.
1992.
HarperCollins Publishers.
Guided Reading Level: O
A little boy who has never been to the seashore spends a day with his mother visualizing the sights that they'd see, the sounds that they'd hear if there were truly on the beach. The book is soooo good for visualization that you almost couldn't tell that the two were not at the beach!
This book would be perfect for teaching children the technique of visualization to be used for reading comprehension. It would also work as a summertime read-aloud!
Visualization and Reading Comprehension:
Other Books to Teach Visualization:
Fireflies, Julie Brinkloe
All the Places to Love, Patricia MacLachlan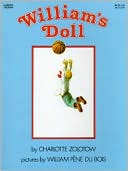 Zolotow, Charlotte.
William's Doll.
1972.
Harper Trophy.
Guided Reading Level: L
All William really wants is a doll, but to his family, that's not something a boy should be in possession of. His brother tells him not to be creepy. His dad races out to the nearest toy store and bring home a basketball and net. William proves that he can play basketball. He even succumbs to playing with the train set his father bought. However, he's just not content without a doll. Grandma to the rescue!
But his father was upset.
"He's a boy!" he said
to William's grandmother.
"He has a basketball
and an electric train
and a workbench
to build things with.
Why does he need a doll?"
William's grandmother smiled.
"He needs it," she said,
"to hug
and to cradle
and to take to the park
so that
when he's a father
like you,
he'll know how to
take care of his baby
and feed him
and love him
and bring him
the things he wants,
like a doll
so that he can
practice being
a father."
I personally think a sweet message is being passed on to boys - that it's okay to enjoy playing with dolls. After all, Grandma's got a point! William has to learn from someone... and a doll allows the practice so that later on in life, William will be a perfect father!
Lesson Plans/Reading Activities: