Yesterday, like many of you probably realize was Flag Day... but the American Flag and all that it means is worthy of much more than just one day of celebration!
National Flag Week is a Presidential Proclamation that has been issued every year since 1966 for the week that includes Flag Day, June 14th. American people to participate in public ceremonies in which the Pledge of Allegiance is recited. So, in honor of National Flag Week, I have a couple flag-related reviews for you!
Ryan, Pam Munoz.

The Flag We Love.

1996.
Scholastic, Inc.
This book is perfect for sharing with children the importance of the American flag! It can be used as a simple introduction to all that the flag stands for, in words that they are able to connect with.
Explorers carried a weary flag
Through snow and sun and wind
And left the banner on the spot
That marked their journey's end.
It could also be used with older children as a research tool!
* In 1926, Richard E. Byrd and his pilot, Floyd Bennett, were the first to fly over the North Pole. Three years later, after Bennett died, Byrd and three companions were the first to fly over the South Pole. Before that historic flight, Byrd took a stone from Bennett's gravesite and tied it to a small American flag. Then, as eh flew over the South Pole, he dropped the flag and stone as a tribute to his ex-pilot and to all polar expeditions. * Explorers often plant flags when they reach their destinations to show that someone from their country has been there. *

Definitely worthy of a read and discussion this week!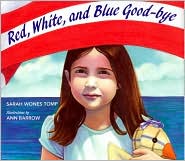 Tomp, Sarah Wones.

Red, White, and Blue Good-bye.

2005.

Walker and Company.
This book isn't entirely focused on the American flag, but it does celebrate the colors of the American flag and tells a wonderful story that is so perfect for children with parents serving in the military, that I just had to share it with you... it would be perfect to pass along to military families!
A young girl is dealing with the emotions as it nears time for her father's deployment. Daddy can see his daughter is upset at his pending departure and tries to show her that even though he won't physically be with her, he'll always be with her...
Daddy says, "Look at the mailbox. See that bright red fag on the side? The red flag goes up when you have something for me. Draw me a picture, write me a letter. Anything, anytime. Stick in in the mailbox and I'll get it."

"It'll travel all the way out to the middle of the sea, all the way round the whole world.
It'll come right to me. Whenever the flag is down, I'm thinking of you.
Just keep your eye on the flag."
Red flag.
Next, the pair takes a walk and wind up racing to the end of the street.
Daddy and I go for a walk. We race to the end of the sidewalk.



Daddy says, "Look up at that sky. See those white clouds floating along?
Whenever you miss me, look for clouds and know that I'm under the very same sky.
Those clouds can float between us."
Red flag, white clouds.
At last, Daddy and Daughter head off to the beach.
Daddy and I go to the beach. One last time before he leaves. It's cold, but it's never too cold for us.
We run in and out of the water. Waves rush at my toes;
Daddy swoops me up and out, just before they hit.

We stand in the water. Our feet sink into the wet, soupy sand.
The waves try to pull us out, out to where the big ships sail.
Daddy says, "Look at the ocean. See all the blue water? I'll be
sailing in this same water. I won't be so far. Just right across the
ocean."
Red flag, white clouds, blue ocean.
Somehow though, Daddy has to connect these three things to something concrete in order for his daughter to make sense of it all and understand...
On Daddy's last night, he tucks me in and hands me a flag.
"I have this same flag on my ship. Think of me whenever you see red, white, and blue."
Red, white and blue become symbols throughout the entire story... it's perfect for military families because of this... the flag symbolizes all that our country stands for. Using red, white and blue to help military children deal with deployment is a wonderful idea, and I think Tomp did an incredible job in writing this story!
Other Related Reading:
Flag Week Fun